Tourism Strategy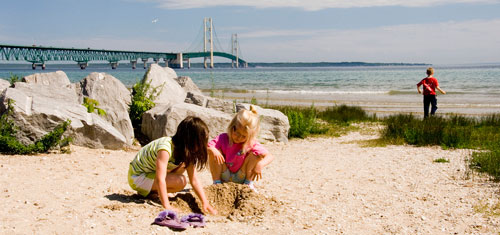 Strategy: Present Northeast Michigan to the global community as a high quality regional destination.
Tourism in Northeast Michigan is and has been largely based on natural resources. The area is known among current visitors as an outdoor recreation destination for water and forest-based activities. Golfing is also a popular recreational activity in the central portion of the region. Unlike other areas of Michigan, most visitors to Northeast Michigan are in-state travelers.
Overall, Northeast Michigan is not a well-known tourism destination. Recent regional and sub-regional projects have sought to bring attention to the region including the US 23 Heritage Route, Up North Trails, and the Thunder Bay National Marine Sanctuary. Slowly, the region is becoming more widely known for the wide range of outdoor, cultural, and historic destinations.
In the past, tourism marketing has been implemented at the community level, but these projects have brought communities together to present themselves as a regional destination worthy of a longer visit. For the creation of the following strategies, a group of representatives from across the region met and discussed needs and priorities. The group ultimately based their strategies on the Pure Michigan 2012-2017 Tourism Strategic Plan. This plan serves as a guideline for action items specific to Northeast Michigan.