Coastal Tourism Best Practices
Many successful coastal tourism operators currently operate thriving entrepreneurial businesses in Northeast Michigan. These businesses represent successful strategies for developing, operating, and marketing coastal tourism business in this region. Their examples serve to provide best practices and lessons learned for operating in this region.
---
Great Lakes Divers
Steve Kroll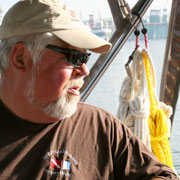 A passion for diving, Kroll has over 30 years grown and operated two complementary businesses – a dive shop and charter diving service – capitalizing on a growing maritime history and dive industry in Northeast Michigan. Aboard his 26 ft. boat "Sweetwater Diver", Kroll offers recreational and extended range wreck diving opportunities from Harrisvillle to Mackinaw; also equipping and serving divers from his Rogers City dive shop store-front. Kroll's market niche specializes in serving technical diving interests, but is equipped to serve a wide diversity of customers. He takes pride in his customer service, promoting stewardship of underwater artifacts, and cooperates with resource management agencies, serving on NOAA Thunder Bay National Marine Sanctuary's Advisory Council. Learn more
---
Trout Scout Fishing Charters
Ed Retherford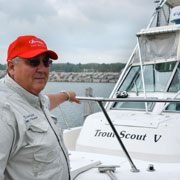 An avid angler, Retherford translates his fishing expertise into a coastal tourism business – providing charter fishing services for over 40 years. Fishing out of Alpena and Presque Isle, his recognizable "Trout Scout V" vessel has served a diversity of customers visiting northeast Michigan – from families and business clients to tournament anglers and youth development/natural resource education programs and events. In his years, Retherford has witnessed many ecological and management changes to Lake Huron's fishery – and adapts his fishing and marketing strategies to capitalize on the diverse fisheries and seasonal fishing offered up by Lake Huron. Retherford contributes to his cause by supporting young anglers (and future customers) through natural resource education programs, is a member of the Michigan Charter Boat Association, and participates in resource management discussions, serving as a member of the Michigan DNR's Lake Huron Fishery Citizen Advisory Committee. Learn more
---
Gauthier & Spaulding Fisheries
John Gauthier and Tom Spaulding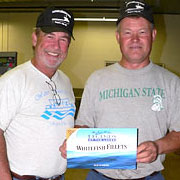 Every fish Gauthier & Spaulding catch and process reflects a hundred years of experience – and a taste of northern Lake Huron. It's been more than a hundred years since John Gauthier's ancestors began fishing in the Great Lakes near Two Rivers, Wisconsin. He was about 10 years old when he started working gill tugs with his family near Fairport on the Garden Peninsula in northern Lake Michigan. He met Tom Spaulding in high school; the two became best friends, and John taught Tom to fish. Visitors to northeast Michigan can still today catch a taste of history through Lake Huron's commercial fishery – Gauthier & Spaulding's whitefish can be found in local groceries, restaurants, and festival events – not to mention the food fish they sell and ship outside the region.
---
Charity Island Dinner Cruises
Bob and Karen Wiltse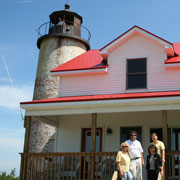 The Wiltse's business model focuses on providing an amazing customer experience – an excursion out on Lake Huron, exploration of natural resources and history and lighthouse of Charity Island, capped by an amazing dinner experience. Serving a diversity of audience markets, the island is available for Day Trips, Dinner Cruises, Weddings, and Birding. Stewardship is a value for both Wiltse's who are committed to historical resource preservation, privatelyowning and rebuilding the historical lightkeeper's house; and they connect this history to Charity Islands natural resources leading tours of the island, providing interpretation of Saginaw Bay fisheries, and bird-watching experiences. Above and beyond traditional marketing strategies, the Wiltse's have helped grow and expand a sister-tourism venture "Sunrise Side Bus Tours" – a marketing partnership which attracts bus tour groups to stopover in Au Gres, Michigan to experience a dinner cruise to Charity Island. In turn, for bus tour visitors, the Wiltse's business provides one stop, one element of a more regional northeast Michigan experience for visitors. Learn more
---
Michigan Sunrise Tours
Heidi Dewald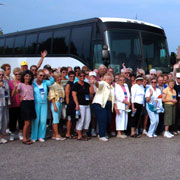 Identifying and attracting new audiences to northeast Michigan – Dewald communicates and cooperates with the bus tour industry, among other groups, to arrange bus tours that immerse customers in a northeast Michigan experience – including stops that introduce visitors to the region's natural, historical, and cultural resources. Dewald's business welcomes large groups, offering planned customized itineraries prepared for each group – the business arranging hotel rooms, meals, entertainment, river and coastal cruises, professional guide service, ground transportation, and overnight security for student groups. Connecting and contributing to many coastal communities, Dewald's bus tours move visitors among partner destinations up and down the coastline; and fostering these relationships, Dewald serves on several regional tourism and economic development committees, including service as a business representative to the U.S. 23 Heritage Route Management Council. Learn more
---
Port Austin Kayak
Chris Boyle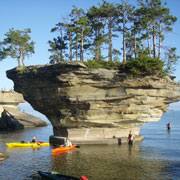 Boyle has a passion for both the outdoors and enhancing his community. Located in Down Town Port Austin, Michigan—his kayak business operations have helped put Michigan's "thumb" region on the map among ecotourism market audiences, his town now ranked # 9 Best Sea Kayak locations in the state. Boyle's business is a secondary business, initially subsidized by his "day job" – however, this development strategy has allowed him to grow slow and sustainably. His business model is simple – provide equipment and services that help visitor's access coastal Lake Huron community's richness in natural, historical, and cultural resources. The business rents kayaks, bikes and water toys by the hour, day or week – and then points visitors (and even provides guided tours) in the right directions for touring stunning rock formations and beautiful shores of Lake Huron, visit the Port Austin Lighthouse or enjoy a relaxing day touring town on a bike. Boyle capitalizes on customers to his region by providing easy access to a diversity of coastal recreation, activity-based recreational equipment; this business need and opportunity recognized through his ardent involvement with local community-development and enhancement groups and initiatives. Learn more
---
Willow Winds
Jim Miller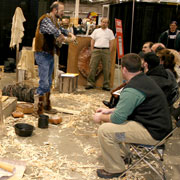 Outdoorsman and writer, Jim Miller is one of the nation's leading advocates of the study and application of traditional skills and crafts. Miller, a Michigan native, discovered the beauty and essence of the natural world at an early age and has spent countless hours studying the skills of our ancestors in woods, fields and streams throughout the Great Lakes region. Through his writing, educational workshops, and his authentic demonstrations during events and festivals not only engagingly interpret but immerse visitors in a rich historical experience. Miller's business plan allows him to both travel the country for events requesting his demonstrations and skills, while also attracting customers to northeast Michigan to learn through his educational workshops. His authentic work often requested by media and historical reproductions throughout the country, Miller is also community-focused and service-minded. Miller's programming enhances – and markets his business through – local historically-focused venues and programming of partners throughout northeast Michigan, ranging from educational workshops held at NOAA Great Lakes Maritime Heritage Center to demonstrations at Michigan DNR Parks Heritage Day events. Learn more
---
Calypso Sportfishing Charters
Gene Kirvan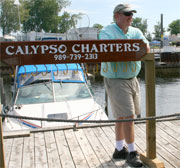 Carrying on traditions, Kirvan provides charter-fishing services aboard the 27-foot twin engine Sea Ray Amberjack "Calypso II." Kirvan has honed his Great Lakes and AuSable River fishing skills through years of personal experience. He also learned under the tutelage of his mentor, well known charter captain John Skrobot. Kirvan's combined knowledge and experience has served both residents and tourists with expert charter and guide service for many years. Kirvan is a member of Michigan DNR Fisheries Lake Huron Citizen Fishery Advisory Committee. In this capacity he has a direct impact on Lake Huron fisheries research and management. While Lake Huron's ecosystem and fishery are in change, Kirvan has successfully adapted his angling strategies to make sure his clients have great fishing experiences on the river or the lake. Kirvan also works with the sport fishing print and broadcast media (such as "Michigan Out-of-Doors") to develop news and magazine articles designed to promote fishing in the entire Northeast Michigan region. Learn more
---
Nettie Bay Lodge
Mark Schuler
A business framed as a lodge retreat destination, Nettie Bay's success stems from a portfolio of services for a diversified customer-base – ranging from traditional hunter/angler customer base while also marketing to new and different Eco-tourism audiences. As they market, "NettieBay Lodge is not only a great place for quiet, restful times, it is also ready to spoil you with activities and learning workshops such as hunting, fishing, split bamboo fly rod making, bird identification workshops, stone masonry workshop, twig furniture, fork shop, spring turkey hunt, fall grouse/woodcock, whitetail hunting archery, rifle and black powder, cross country trails, and ice fishing on Lake Nettie and so much more." Capitalizing on a diversity of natural resource-based tourism interests, Nettie Bay Lodge sells customer service and stewardship education as their Northeast Michigan business's "product". Learn more