How to Become a Government Contractor
Wednesday, January 17, 2018
10:00 AM to 12:00 PM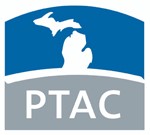 What does it take to become a successful government contractor?
What services and resources are available to a small business pursuing the government market?
If your company has been considering the field of government contracting, this FREE class will give you the insight you need.
Did you know the federal government purchases more than $518 billion of goods and services a year, and the State of Michigan utilizes over 950 multi-year contracts worth billions of dollars?
Find out what it takes to sell your goods and services to the federal government and the State of Michigan. In addition, learn about the services and continuous support the Procurement Technical Assistance Center (PTAC) has available to help your company with the contracting process.
Learn about Federal Government Contracting:
Classifying your product / service through NAICS, PSC's, FSC's

Getting registered: SAM, DSBS, HUBZone

Small Business Programs: Set-asides, Veteran Owned, Women Owned, etc.

PTAC assistance with finding bidding opportunities

Types of solicitations

Marketing strategies

The bid process
Learn about State of Michigan Contracting:
What products and services does the State of Michigan buy?

Vendor registration

PTAC assistance with finding bidding opportunities

Plan and research for State bidding opportunities

Marketing your product or service

Review Current Contract List / Upcoming Project List
REGISTER EARLY!
There is no charge for this class, but REGISTRATION IS REQUIRED!
TO REGISTER: contact Tammy Moore, PTAC Procurement Counselor at 989-733-8540
Who should attend this class? Management and the key player(s) who will support and be involved in your day-to-day government contracting process.
Northeast Michigan Consortium Michigan Works!
11153 N Straits Hwy
Cheboygan, MI 49721
Please arrive 15 minutes prior to class start time. Classes start promptly at 10am.