Michigan Works Training Funds Create a New Northern Michigan Welder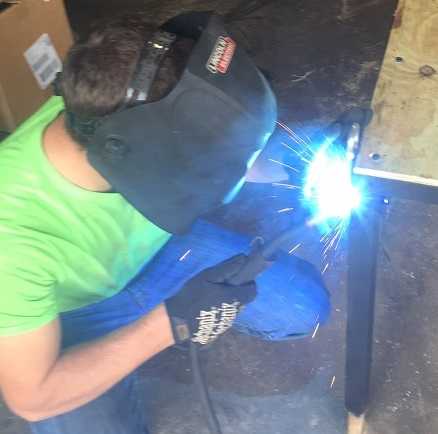 Adam Loar had been working at Aerobic Cruiser Hybrid Cycles as a Mechanic Manager/Sales Representative when the shop closed and relocated out of state. Although he was able to find a part-time mechanic job with Evergreen Lawn Care, the position was a temporary, seasonal job and paid less than 70% of his previous wage.
Having difficulty paying his bills, Adam kept looking to find a permanent, year-round, higher paying position. He discussed this with his supervisor and was informed that the shop was looking for a full time welder, which paid nearly what he was making previously, plus offered benefits. Adam researched and found that the Industrial Arts Institute (IAI) offered a 15-week certified welder certificate in Onaway, so Adam went to IAI to learn more.
At the Industrial Arts Institute's tour for interested students, Michigan Works! informed candidates about possible Class Room Training Funding. Later that same day, Adam came in to Michigan Works! to start the process. He was found eligible and suitable for the Dislocated Worker SP NEG 2622 Class Room Training Funding and thanks to this assistance, Adam was able to earn his certified welder certificate and begin a new career.
"I would like to give a huge thank you to Michigan Works! for providing me with the funding I needed to get through my 15 week class at IAI," says Adam. "Without this funding I do not think I would be where I am today, doing something I enjoy so much! Their funding provided money for me to use towards school, as well as helped pay for some things during school such as fuel, food, etc."
Created on Wednesday, September 14, 2016