Michigan Works! Helps Student Who Couldn't Qualify for Tuition Grants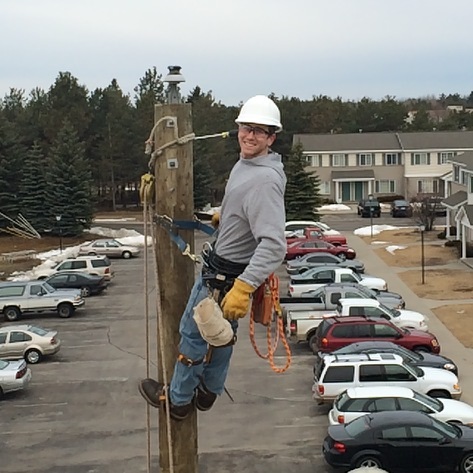 Jonathon Maxson came to Michigan Works! Northeast Consortium for tuition assistance in March 2015. Jonathon couldn't get grants due to his parents income, but he was living on his own; working and paying his own bills. He previous worked seasonally at Otis Specialist making $9 per hour, but he could not work that job while attending his schooling, because Otis Specialist was in Coldwater and his school was in Alpena.
With the help of Case Manager Trainer Jenna Willobee, Michigan Works! was able to help Jonathon with tuition, books and fees for Alpena Community College and Lansing Community College's 9-Week Consumer Energy program. Michigan Works! also assisted with mileage reimbursement, Jonathon's rent while attending school, and paid for the cost of obtaining his CDL Class A commercial license.
"I came to Michigan Works! for assistance with school tuition. I was in my last semester of the Utility Tech program with Alpena Community college and the Consumers Energy program with Lansing Community College. With my parents income I did not qualify for grants and without the help of Michigan Works! I would not have been able to afford to finish schooling and go on to do the Consumers Energy 9 week school-to-work program," says Jonathon. "Michigan Works! was able to help me with the tuition cost at Alpena Community College and they helped to pay for half of the Consumers Energy Program. They even were able to help me with the cost of getting a class A CDL license, and mileage to drive to the program. Before to going to school for Utility Tech I worked making $9.00/hr. After completion of all my training, and with lots of hard work and determination, I now work for a great company, Consumers Energy, making $32.61/hr as a Step 1 Apprentice."
Jonathon says thankfully, "I could not and would not change a thing. I love the job that I do and the people I work with. I cannot say how appreciative that I am for Michigan Works! and all of the help that they have given me. Without their help I would not be where I am today. Also with the help of my good friend Matt Kruski…from finishing up school together, then going to a college lineman rodeo out in Kansas City, MO, to both of us working for the same company. This was because Michigan Works! was able to help."
Created on Monday, April 11, 2016