Small Pallet Mill Receives Blueprint Reading Through Skilled Trades Training Funds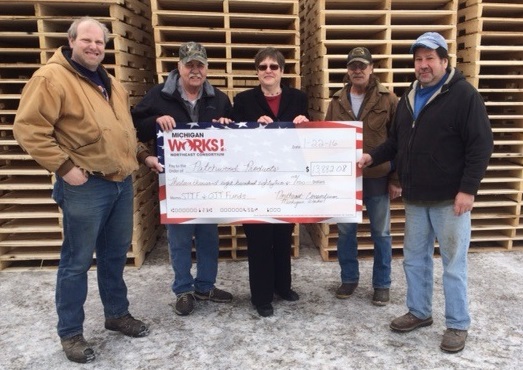 Did you know two-thirds of all U.S. manufacturing jobs in 2015 likely were created in MI? While manufacturing is still Michigan's fourth-largest industry with more than 600,000 jobs, across the U.S. we're seeing a big comeback in manufacturing…which leads us to Patchwood Products.
Manufacturing Growth in Northeast Michigan
Patchwood Products, a veteran owned small business located in Hillman, MI, has been manufacturing hard and soft wood pallets and related wood products for over 30 years. In addition to pallet manufacturing, Patchwood also repairs used pallets and ships them to a variety of downstate plants almost daily.
Earlier in 2015, Patchwood worked with their local PTAC office to establish themselves as a state and government supplier. Now able to bid on government contracts and expand their customer base, they hoped to increase in their production, which would in turn create more jobs in the community. Thanks to PTAC's guidance, Patchwood soon landed a pallet contract with the government. While not a large contract, it was large enough to challenge the small business and their existing resources. In addition, the specs of the government pallets were very explicit and Patchwood's limited blueprint reading experience quickly became an obstacle.
When Michigan Works! Northeast Consortium approached Patchwood regarding the possibility of training dollars via the Skilled Trades Training Fund (STTF), they were quick to jump on board. Their plan was to increase production capability by hiring five new people and expand their existing area layout for the additional production needs.
To keep up with the latest manufacturing processes and their increased demand, Patchwood Products of Hillman, MI received $9,720 in STTF awards for training at Kirtland Community College in Jan 2016. Once the STTF was approved, the hiring process began. With the guidance of Michigan Works!, Patchwood used MiTalent.org to successfully find and hire their five new employees.
Basic Blueprint Reading and Manufacturing Measurements Training was provided on-site at the Patchwood Plaza by Kirtland Community College. The two half-day classes were held the first week of January 2016, and 17 employees attended and completed the training. The training was provided for the current 12 employees, plus the five new hires. Four of the five new hires would work at the mill producing the pallets, while new hire Dave Loughmiller would be transporting the product by truck to the pallet's delivery destination. Loughmiller would also be cross trained in the mill.
Thanks to the STTF and this training, the challenge of the government pallet specs has been eliminated and Patchwood now plans to seek even larger bids. In addition, the training has given each employee a new skill to add to their skillset. Patchwood owner James Paczkowski says, "Michigan Works! Northeast Consortium has been very helpful in providing information on programs that have and would benefit and grow my business. I would recommend Michigan Works! to any business."
It is Patchwoods Products' plan to continue to add equipment and employees, as it continues manufacturing pallets and seeking new bid opportunities.
Marc Whitney, one of Patchwood's new hires, is excited to utilize his new skills. He states, "I appreciated the opportunity to receive the blueprint reading class and to work for Patchwood Products."
Keeping Veterans in Mind
In addition, owner James Paczkowski, who's been involved in development projects in Detroit, Alpena, and Rogers City, recently acquired a new 50,000 square foot building and employed four new staff who are veterans, to produce Patchwood's products. As Patchwood gains momentum, Paczkowski's goal is to continue to seek resources to improve the community and to progress the "Hire a Veteran" program to employ more of the local veteran population.
Created on Monday, March 21, 2016