MW! Helps Dislocated Worker Pursue Career as Corrections Officer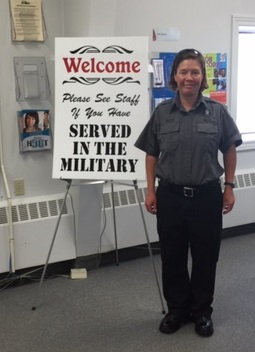 Christine Brocco (Chris), a member of the Canadian Armed Forces, was deployed to Kabul Afghanistan when she met her husband, who was about to retire from the United States Air Force. Once they were back in the states, they moved to Onaway, MI, but Chris was finding it hard to find full-time employment.
After being laid off from her minimum wage, seasonal job at Stoney Links Golf Course, Chris was looking for a fresh start. She came to Michigan Works! wanting to pursue a career as a full-time Correctional Officer.
Chris worked with Yolanda Harrison, a Talent Specialist at the Onaway Michigan Works! office, on creating her resume and cover letter, completing the State of Michigan Correctional Officer application, conducting mock interviews, and attending a dress for success workshop. Once chosen for schooling, Yolanda also assisted her with an ITA (Individual Training Account) and support services to attend Lake Superior State University School of Criminal Justice.
Chris completed the program and was hired by the State of Michigan Department of Corrections Kinross Correctional Facility full time at $16.32 per hour. She is now working as a Corrections Officer at Chippewa Correctional Facility.
Correctional Officer Brocco states, "I can't express how much I appreciate Yolanda's help! Thank you for all your time and effort with me, for my schooling and progress for my new career!"
Created on Monday, March 07, 2016