Home / News / World of Floors Receives Advanced Office Accounting Training Thanks to Going PRO Award
World of Floors Receives Advanced Office Accounting Training Thanks to Going PRO Award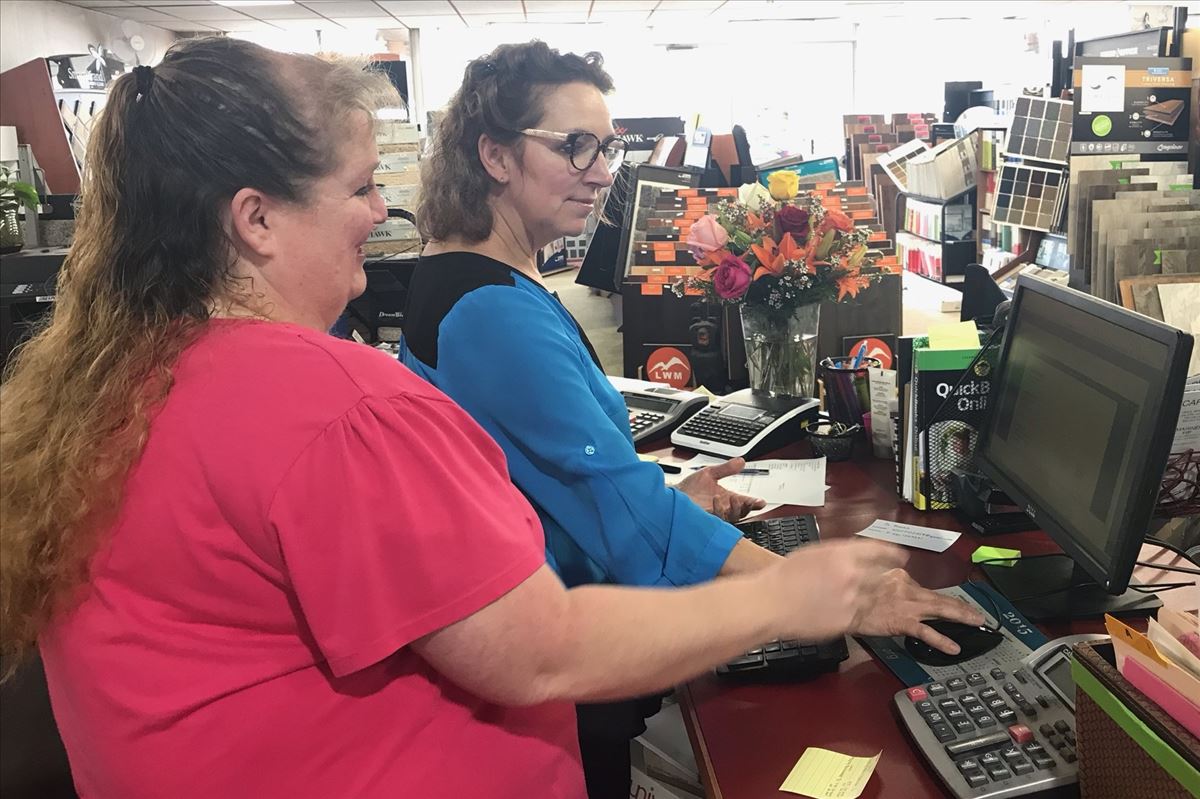 World of Floors has been in Grayling for 23 years and is one of the two flooring companies in the area. Owner Tammy Whitley had some training in QuickBooks, but was struggling with the business accounting side of her operations. She also had an employee of less than a year with the company who needed to learn and understand the accounting side of the business as part of her job. She knew they weren't utilizing the full potential of the QuickBooks software, but online training was limited, and very expensive.
Having previously worked with Michigan Works! to secure training funds, Tammy approached us again. This time hoping to get more in-depth QuickBooks training. With the help of Michigan Works! Northeast Consortium, World of Floors was able to secure a $2,439 Going PRO Talent Fund award to train two employees.
The training provided both employees with a much better understanding of how to use accounting theories and concepts in conjunction with their QuickBooks operating system. Now both of them have better knowledge in terms of calculating net profits and losses, general ledger entries and interpretations, tax laws, and the many areas of payroll that they were not fully trained in nor had an understanding of. Tammy can now apply the concepts she learned and business accounting training in their second store location in Lewiston as well and the newly trained store associate can act as a back-up role should the owner not be present at the main store.
The Advanced Office Accounting Skills training was provided through Kirtland Community College and the instructor worked onsite at the company using their accounting software.
"It was a privilege to be involved with this program," says trainer Tammy LaBouef. "It was totally gratifying to watch the participants bloom and use the tools we provided them. The moment when it CLICKED, you could see it. You watched them become more effective in their job; they understood the "WHY" & "HOW DOES THAT WORK". You could see the frustration and aggravation leave and their confidence grow. It was a unique experience to teach them with their real world setting and materials. I was able to customize the learning experience to their needs, it gave meaning to the terms and principals that were presented. I believe that the participants retained more and were able to put it into immediate action. It improved their efficiency and strengthened their work process. I do not believe you could have that same learning level and experience gain from text and generic educational materials alone. Thank you for the opportunity to participate in such a great learning and growth experience. I would love the opportunity to help other small businesses if these needs arise in the future."
"The training was excellent; the instructor came onsite and helped us understand our business accounting end," reports Tammy Whitley, World of Floors owner. "Myself and one employee feel more confident and have such a better understanding of how our system operates. Now we can actually use it to the full potential; inventory, profit/loss reports are calculated accurately and tracked, and we have a better grasp on the business' financial picture."
Created on Friday, August 23, 2019