Home / News / IMM Continues Upskilling Employees to Remain Competitive, Expand Fabrication Abilities
IMM Continues Upskilling Employees to Remain Competitive, Expand Fabrication Abilities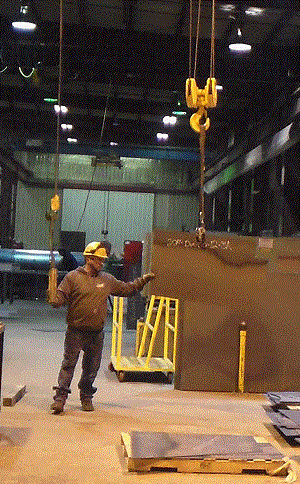 IMM, Inc. was in need of training for Indoor Overhead Crane Rigging to enhanced staff skills to more efficiently and safely maneuver the larger and more varied fabrication projects they now produce. The training would also help to better meet the fabricating needs of their current and future customers. Prior grant funds provided enhanced welding skills to allow IMM to fabricate new types of products and they were hopeful to continue upskilling their staff.
With help from Michigan Works! Northeast Consortium, funding was provided through Incumbent Worker Training for previous crane rigging training and previous Skilled Trade Training Funds for welding training. In 2018, they were once again awarded an STTF grant for Overhead Crane Rigging training and NCCCO Crane training. A grant of $19,700 was awarded to train 26 employees. Training was provided by Kirtland Community College and ATS Specialized Training.
Prior to the training, IMM's field crew went through a period of transition resulting in a fresh workforce of experienced welders/millwrights, but they were without the necessary rigger/signalperson certifications their industry and customers require. It was necessary for employees to get the training and certifications for rigging/signalperson that IMM's insurers, equipment providers, customers, and regulatory agencies now require. Now, thanks to the STTF Grant and specialized training, IMM has their own trained and certified riggers/signalpersons. Rigging certifications will allow IMM to be more competitive in their bidding process, resulting in being awarded additional work and to install products without the need for outside contractors, which keeps IMM employees working.
"Now that our training is complete were are in a better position to create additional job openings, through an expanded workload and customer base," reports Sandy Moody, IMM's HR Manager. "We are grateful to the State of Michigan for the opportunities afforded to us through the Michigan Skilled Trades Training Funds and the Michigan Works! programs to pursue our goals to continue to fight unemployment in our depressed area economy, improve the employability of our employees, and to expand our company's competitiveness in the marketplace. Because of the training, our employees now have greater confidence in their ability to handle larger materials, and to maneuver it for easier and quicker fabricating and installation methods."
Created on Thursday, July 25, 2019