Home / News / Two Grayling Employers Benefit from Root Cause Analysis Training Thanks to Industry-Led Collaborative Grant
Two Grayling Employers Benefit from Root Cause Analysis Training Thanks to Industry-Led Collaborative Grant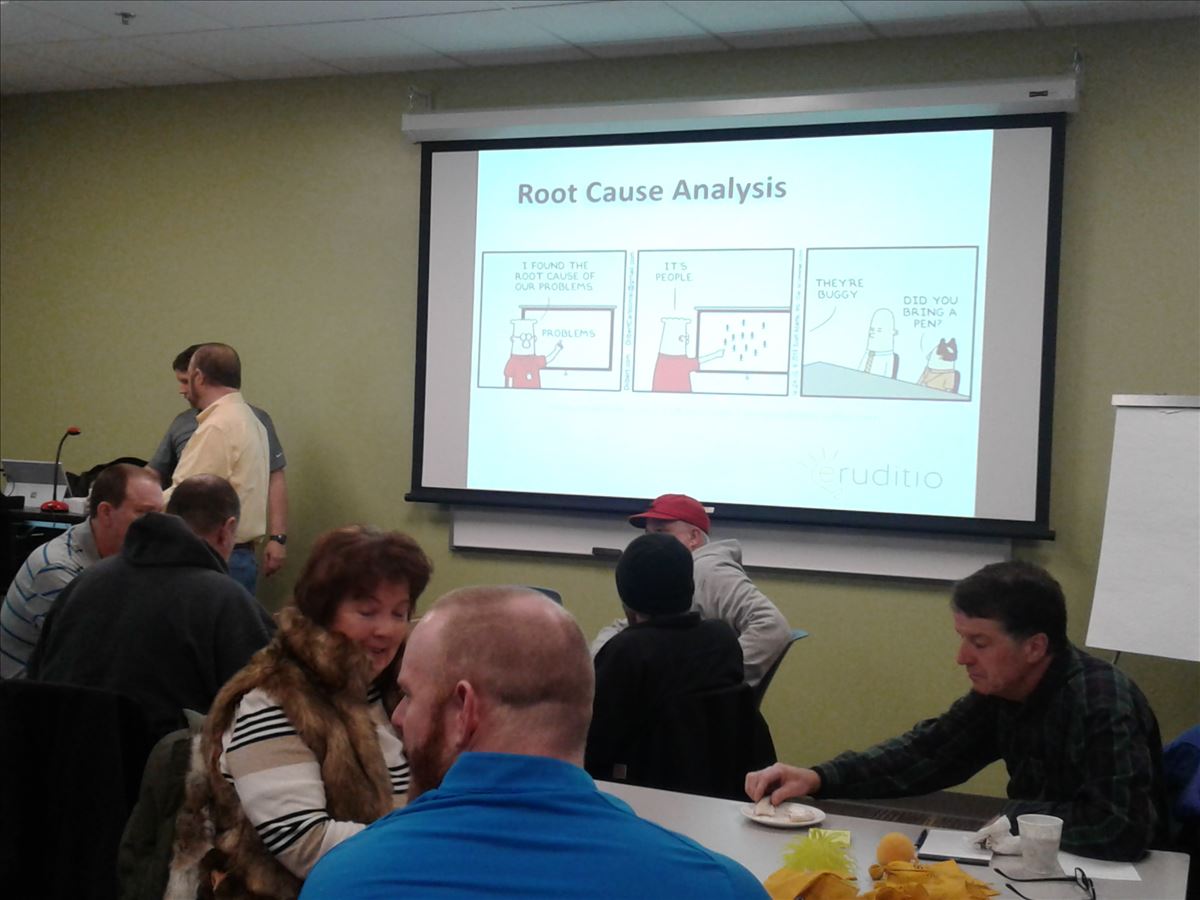 Weyerhaeuser needed to train some of their mill employees in cause analysis to better prepare them to swiftly address plant problems and incidents. Like most high tech mills, Weyerhaeuser requires critical thinking and quick response when issues arise. They contacted their neighboring plant, AJD Forest Products, and found they needed this type of training at their plant also. With the help of Alayne Hansen, Business Solutions Professional at Michigan Works! Northeast Consortium, the two companies formed an Industry-Led Collaborative (ILC) for the Root Cause Analysis training and were awarded $20,000 via the Going PRO Talent Fund to train 18 existing employees.
The two day course in Root Cause Analysis (RCA) consisted of 16 classroom hours. The trainees learned techniques to create a root cause culture thereby reducing their culture of blame. Post training, they have implemented solution sharing, which reduces down-time, increases production, and will improve safety performance.
The training taught how to use a process based approach, as well as some of the most popular and useful problem solving techniques available. Trainees were taught how to collect good data through interviews and investigation to assess problems in less time and with better results, how to outline steps for a successful root cause process, and discussions on how to build business case thinking into every root cause process. Now each time an incident arises, these trained employees will have the tools to access, diagnose, and apply the "five whys" of the RCA process to solve the issue.
"Since taking the two day training on Root Cause Analysis at Kirtland Community College, our Leadership team has begun to each complete their own RCAs, which was previously handled by one individual," states Weyerhaeuser HR Manager Jessica Mika. "The instruction from Eruditio prepared our staff to really dig down to the Root Cause of a problem whether the issues exists in our process, training or anywhere in our facility. As a result of our team learning to use these problem solving tools, we hope to identify sustainable solutions which will help us continue to improve our mill. Thanks again MiWorks for helping us make such a great event happen!"
In addition to this ILC grant, both Weyerhaeuser and AJD Forest Products were awarded 2019 Going PRO Talent Fund grants to further other avenues of their employee's training. Weyerhaeuser will use a portion of their award for apprenticeship training, while AJD will provide training for two staff to receive tax law and accounting training.
Created on Thursday, March 14, 2019