From Unemployed to Licensed and Employed at Her Dream Job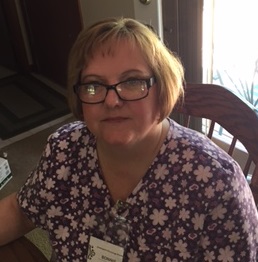 Bonnie Johnson had a passion for helping others and she aspired to become a Certified Nursing Assistant (CNA), but without the proper CNA license, her searches for employment had been unsuccessful. Knowing she wanted to work in that field, she found an upcoming licensing class through Healing Hands and was notified by Jamiesons Nursing Home that she would be hired once she received her CNA. Like many job seekers, the only obstacle that stood in her way was the resources and funds needed to complete the occupational license.
It was at that point Bonnie turned to Michigan Works! Bonnie worked with Talent Specialist Keri Collins and Case Manager/Trainer Michelle Burns to discuss what services and programs were available to help her. Bonnie was eligible and suitable for the Class Room Training program. This program offered assistance with the costs of her training and she also received assistance with the cost of uniforms needed for training and CNA testing.
When there's a will, there's a way! Bonnie passed her test and shortly after became employed full time with Jamiesons. She has completed her 90-day probation period and says it's her dream job. She's very thankful that Michigan Works! was able to help her make this dream a reality!
Many people are eligible for Class Room Training and other tuition/financial assistance programs. In fact, if you're within the last 2 years of receiving your degree or vocational certificate in a high-demand occupation and you're struggling financially to complete your education, we can help! Want to further your career or pursue your dream job? Don't wait, call us today to see if you're eligible for financial assistance!
Created on Tuesday, December 29, 2015