National Manufacturing Day Events Come to Northern Michigan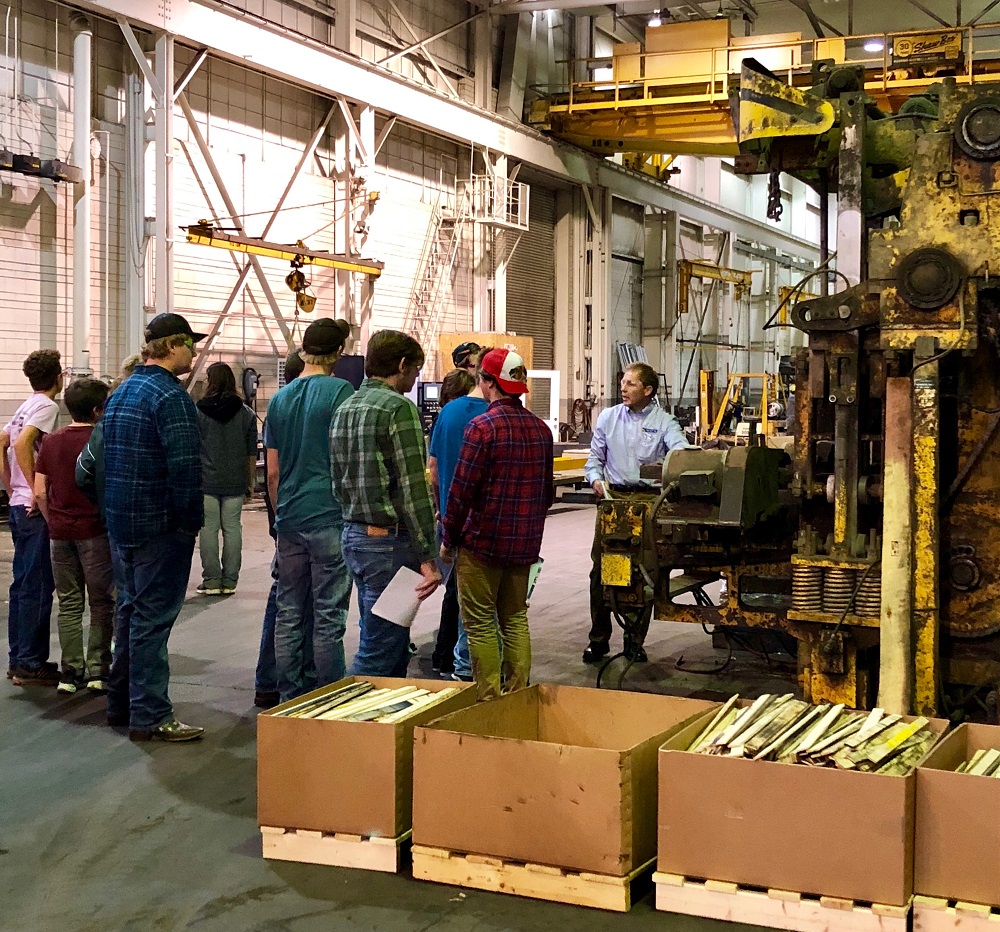 Throughout October, hundreds of local high school students are expected to take part in Manufacturing Day events across northeast Michigan. This national program is geared towards showcasing careers in advanced manufacturing.
Manufacturing Day, an annual celebration of modern manufacturing meant to inspire the next generation of manufacturers, is being celebrated locally, once again, at over 15 companies across northeast Michigan. Since 2012, over 265,000 students have participated in Manufacturing Day events nationwide.
The program allows students to get out of the classrooms and into the facilities they may want to work in one day by actually seeing, touching and learning about the manufacturing industry and the technologies associated with it. Tours include guided tours through plant facilities, as well as discussions about available job opportunities and the career paths required for these positions. Through these tours, it is hoped that we can change perceptions about today's manufacturing environment and draw attention to the career opportunities that exist in manufacturing.
While Manufacturing Day was October 5th, student events will continue throughout the month. Manufacturing Day allows manufacturers to address the skilled labor shortage they face, connect with future generations, take charge of the public image of manufacturing, and ensure the ongoing prosperity of the whole industry.
While those sound like lofty goals, consider this: The latest study by Deloitte and The Manufacturing Institute on MFG Day's effects on student perceptions of manufacturing found:
84% of students who attended MFG Day events emerged "more convinced that manufacturing provides careers that are interesting and rewarding."
71% of student attendees said that they "were more likely to tell friends, family, parents, or colleagues about manufacturing after attending an event," meaning that they weren't just convinced — they were inspired.
64% of surveyed student event participants said that they "were more motivated to pursue a career in manufacturing."
Why is this introduction to manufacturing so important? Based on Deloitte projections from a 2015 study, "over the next decade nearly 3.5 million manufacturing jobs will likely need to be filled, yet the skills gap is expected to result in nearly 2 million of those jobs going unfilled."
Throughout the month, students will have the opportunity to tour some of our region's most unique and important manufacturing facilities. In 2017, Michigan was among the top 5 states with the most manufacturers participating as host companies.
As of October 16th, students have already begun touring local companies such as ESI, Besser, Ossineke Industries, Metalfab Manufacturing, AMI, IMM, Air Way Automation, CSI Emergency Apparatus, Cooper Standard, and TubeFab Roman Engineering. More tours are slated throughout the month at these companies, as well as Moran Iron Works, Cadillac Products, Arauco, Weyerhaeuser, and AJD Forest Products.
Talent Tours, such as these surrounding Manufacturing Day, help expose students to local opportunities in in-demand careers; opportunities that students otherwise would never have known existed. With help from Michigan Works!, employers from a variety of industries, including healthcare, technology, construction, and hospitality, work throughout the year to offer Talent Tours to local students. If you're interested in taking part in a Talent Tour, please contact your local Michigan Works! for more information (800-285-WORK).
---
OSSINEKE INDUSTRIES – Ossineke, MI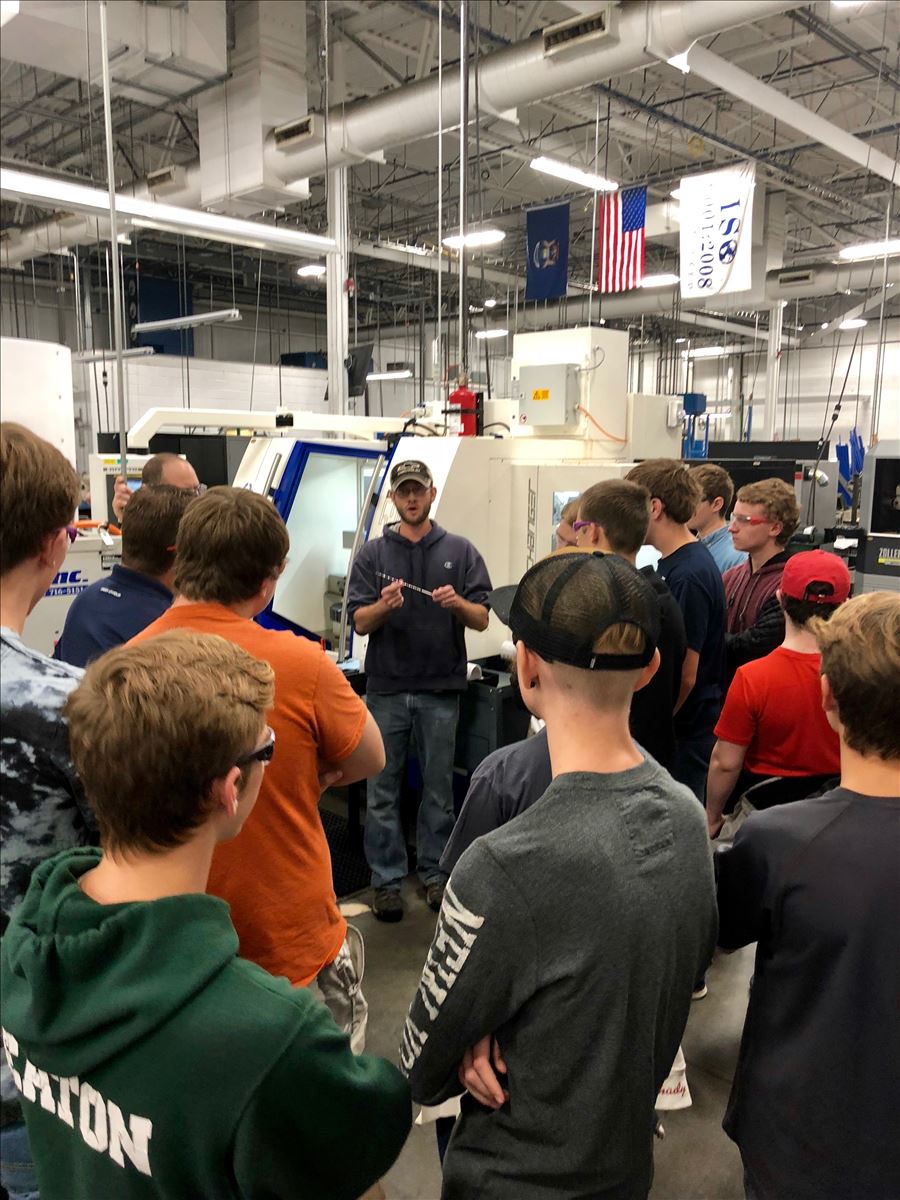 On October 4th, 22 students from Alpena High School's Mechatronics class toured Ossineke Industries. The Mechatronics class, ranging from 9th - 12th graders, toured the manufacturing portion of the facility and were able to see employees in their everyday work environment. Students were shown how employees operate the CNC machines, conduct safety checks, the inspection area, and much more. Students asked multiple questions during the tour. Following the tour, students went into the conference room at Ossineke Industries and listened to a short presentation about the history of the company and the parent company, Star Cutter. Students were shown photos and information regarding the numerous other plants around Michigan by Star Cutter. They were educated on what Ossineke Industries manufactures, as well as what the other plants manufacture. Lastly, students listened to Jessica Hellenberg from Michigan Works! discuss different Michigan Works! services and the Pathfinder online program. Bill Keen, General Manager of Ossineke Industries, is on the Michigan Works! Workforce Development Board and strives to change students' perceptions of manufacturing being a "dirty" job. Students were engaged throughout the facility tour, asking good questions during the tour and at the conclusion of the presentation
---
METALFAB MANUFACTURING – Mio, MI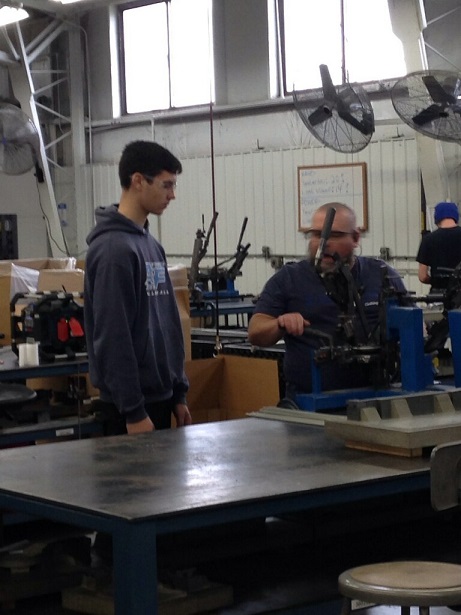 Metalfab Manufacturing held a student tour, and a public event on October 5, 2018 as part of Michigan Manufacturing Day. Twenty students from Fairview Schools Senior Seminar in Fairview accompanied their instructor and a staff member from Michigan Work to tour the facility.
Metalfab, a Michigan Corporation was founded in 1990 and was originally formed to build tooling and equipment for the Tube Fabricating Industry. With over 28 years' experience in building tooling and equipment for others, Metalfab decided in 2003 to enter the tube fabricating market and is now established as a premium, high quality tube fabricator. Metalfab plans to further expand as a fabricator using it's background in tooling and equipment to seek opportunities to grow and establish long term customer relationships.

Students enjoyed the tour and were able to interact with Metalfab machine operators who were bending tubing. They also had the opportunity to learn of opportunities for employment after high school from company controller, Kyle Yoder, and the skills that are needed to perform the jobs. This is the second year in a row Metalfab has hosted student tours around Manufacturing Day. The company is also very active in the local schools with student mock interviews.
---
AMI, INC – Mio, MI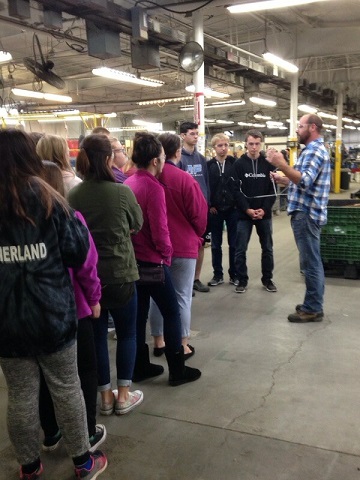 On October 5th, 20 students from Fairview Schools Senior Seminar class toured AMI Industries. Feedback from the employer was very positive about how the students asked great questions, were engaged in the work environment, and how they interacted with AMI staff members.
The tour was led by Plant Manager, Todd Morris and included many areas of the facility, including the manufacturing floor, IT department, and front office so students could learn of several different jobs within the company.
AMI Industries is a Tier 1-2 supplier to agriculture, construction, automotive, heavy truck, and marine industries. They are a private company located in Lewiston and their products focus mainly in fluid handling components related to Powertrain and Chassis systems. This is the second year in a row the company has supported Manufacturing Day by hosting student tours.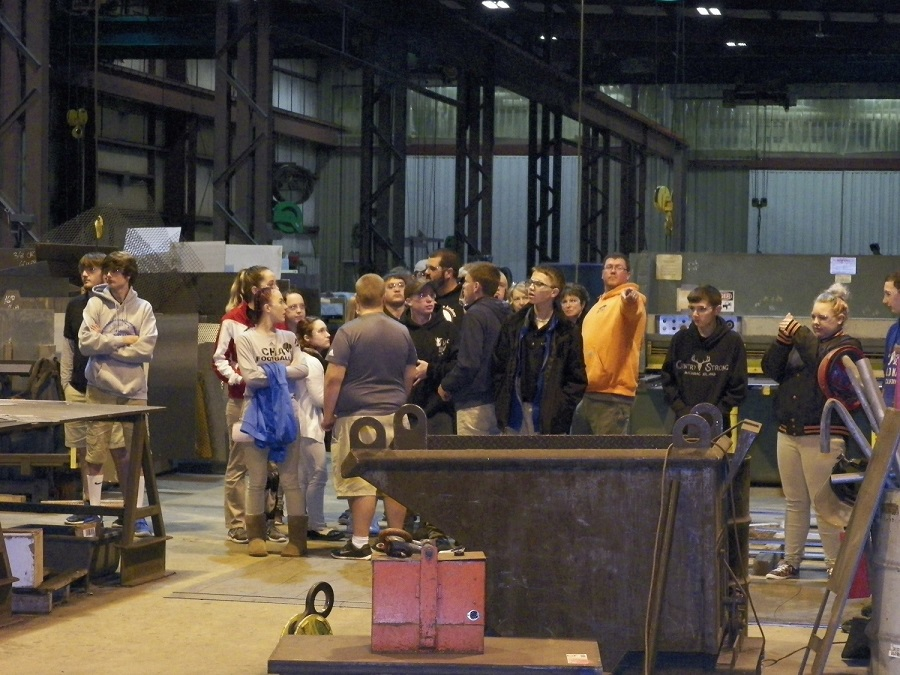 Charlton Heston Academy, located in St. Helen participated in a Talent Tour at IMM, Inc. in Grayling on October 5, 2018. The event was held in recognition of Manufacturing Day and 17 students were able to experience manufacturing in action.
IMM offers a wide variety of nation-wide industrial installations and maintenance services, including metal fabrication and machine building. Students saw how metal is formed into cylinders for duct work, and the welding skills it takes to weld seams. Then onto the paint department where they saw the spray booth, and the overhead cranes that move the large pieces of steel and metal around the shop. Floor Manager Chris Crawford explained the many different jobs available and how needed skilled workers are for welding, fabricating, and CNC machines at their site.
IMM has grown from a 6,000 square feet facility to 40,800 square feet facility. During the expansion process, they have also added additional state of the art equipment to support customers' needs and requirements. This expansion has allowed IMM to increase fabrication and machine building capacities up to 80,000 pounds. The company has just earned certification from the Women's Business Enterprise National Council (WBENC), the largest certifier of women-owned businesses in the U.S. and a leading advocate for women business owners and entrepreneurs.
Following the tour, students visited two other manufacturers in Grayling, then headed over to Michigan Works! for a pizza party and presentation from staff on their programs and services.
---
AIR WAY AUTOMATION – Grayling, MI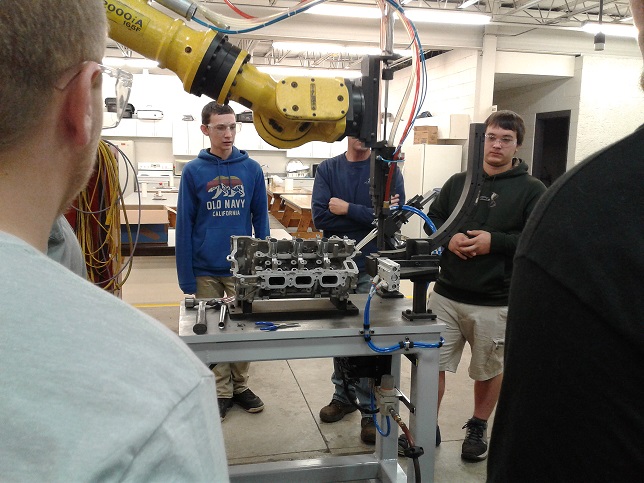 Airway Automation in Grayling hosted a student Talent Tour on Oct 5, 2018 in recognition of Manufacturing Day. Seventeen students from Charlton Heston Academy in St. Helen participated in the tour along with their instructor, and four Michigan Works! staff from Grayling and Roscommon.
Plant Managers Gary Sheldon and Todd Bidwell split the students in two groups early on the early because of so many student questions and interaction. The robots were of great interest to the students, especially when they were given the opportunity to hand feed the parts into the robots to see how they work.
There was plenty of communication back and forth with Airway staff and students with so much to see and hands on experience. Gary spoke to the students on the importance of attitude, and emphasized that he can teach anyone to learn jobs at his company, but he can't teach attitudes and ethics. He used his own experience as starting at the company right after high school, and learning as many jobs as possible which propelled him to higher positions, with more salary, and eventually management.
Gary is currently working on a class he will teach that will be offered to high school students hours to learn skilled jobs at Airway. The company brought on an intern through Grayling High who has been doing very well. This new class would reach students interested in pursuing jobs in the manufacturing industry and may help Airway fill gaps in their workforce with upcoming retirements in the next 3-5 years.

Airway Automation is always one of the favorite tour sites according to student feedback, and the staff at Airway do an incredible job bringing students in and showing them around their facility.
---
CSI EMERGENCY APPARATUS – Grayling, MI
Seventeen students and their instructor from Charlton Heston Academy, along with four Michigan Works! staff from Grayling and Roscommon toured CSI Emergency Apparatus in Grayling on Oct 5, 2018 in recognition of Manufacturing Day.
Owner Mark Brown gave the students a hands on tour of their production site that builds and customizes fire trucks. The company also has a repair and maintenance facility around the corner. They are currently building a military grade fire truck for Camp Grayling.
The students were able to go down into the "pit" as Mark calls it, to look underneath the belly of a fire engine that was being fabricated. They also experienced what it's like to sit inside and explore four trucks that were onsite, which the students loved! They tested the lights, horns and instrument panels and familiarized themselves with all the hoses and accessories that are housed on fire engines.
But the students also learned what a unique opportunity it is to build fire engines from the ground up, and what opportunities in the industry can be available to them. Mark explained the skills he acquired learning on the job and how he worked his way up throughout his career to company owner. Mark also stressed the importance of skilled trades and how they related to so many jobs in manufacturing, like welding and fabricating which are needed at his facility.

CSI Emergency Apparatus is a favorite tour site among students. This visit included a great deal of interaction between the company owner, students and adults who attended. Another excellent tour! Several students asked Michigan Works! staff if they could come back and visit CSI again. A few wanted to see how the wheels are installed, and others asked if next time they could watch the seats being put in.
---
CARMEUSE LIME & STONE – Rogers City, MI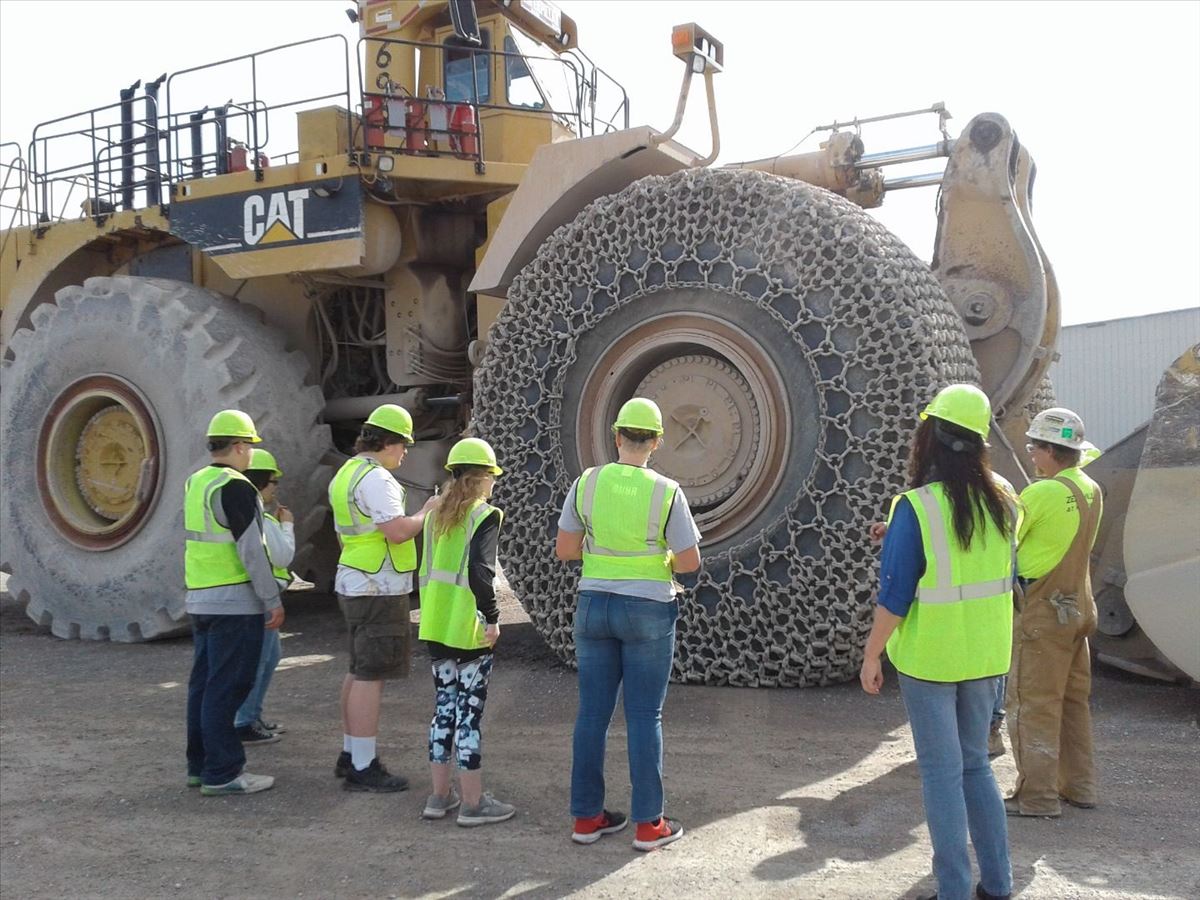 On October 9th, 59 students from Rogers City, Posen, Onaway, and Cheboygan High School's toured Carmeuse Lime & Stone in Rogers City. Carmeuse offered an all-day event, running 9am-2pm, providing lunch for the students. The morning started with a safety presentation and employees presented on what position they held and how they got where they were. After lunch, students were provided safety equipment and broken out into groups to tour specialized areas, including machining, dock, and heavy equipment. Carmeuse was happy to bring students in to see close up what each area an employee can work in, what they work with, and what they did (educationally) to get there.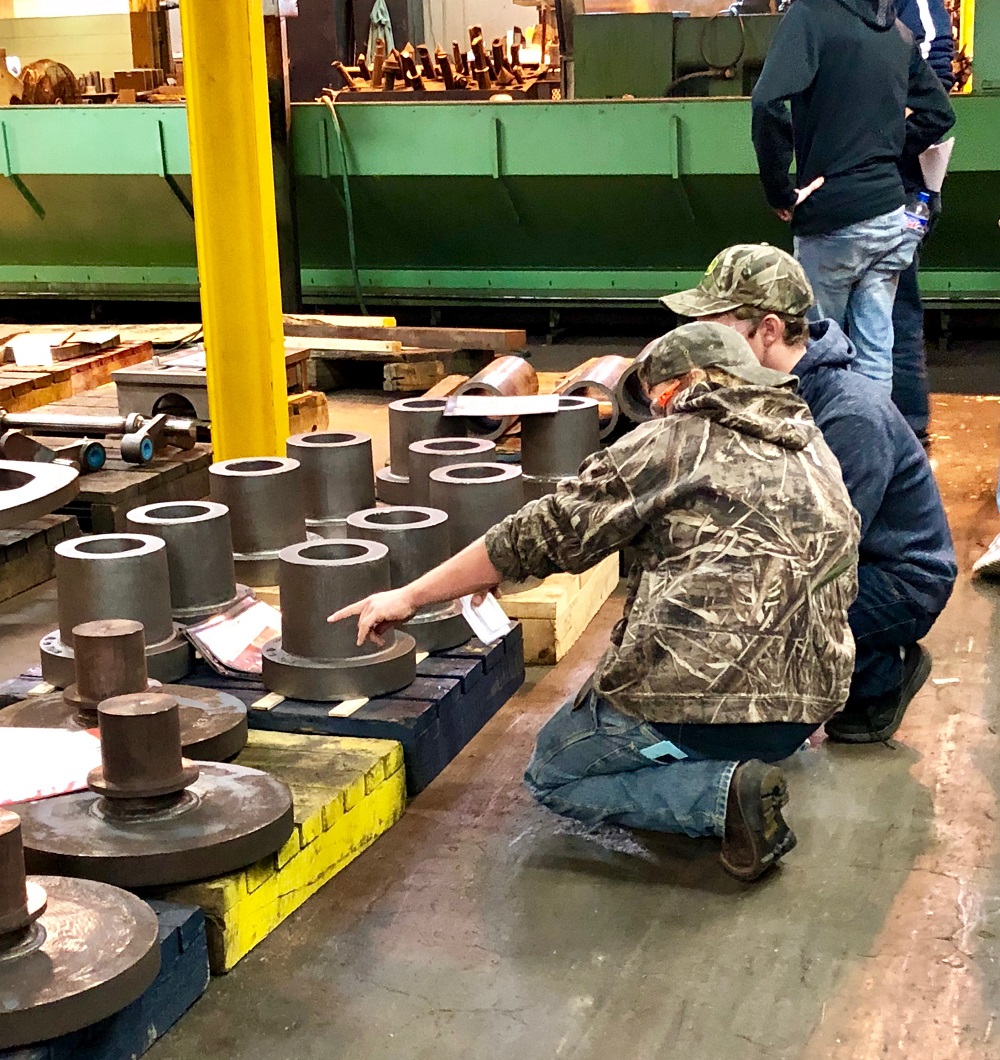 On October 11th, 51 students from Alpena High School toured Besser Co. in Alpena. Students were able to tour the facility, hear about the company's history, learn about what they manufacture, learn about their other plants throughout the US and abroad, and discuss the career path required to achieve these careers. During the manufacturing facility tour, students were shown multiple different kinds of equipment, and many students were taken one-by-one by numerous Besser employees, including the President of Besser, to be shown different aspects of equipment. Lastly, students listened to Jessica Hellenberg from Michigan Works! discuss different Michigan Works! services and the online Pathfinder program. At the end of the tour, students were treated to themed cookies Besser brought in special for them. Students were engaged throughout the tour, with one student even inquiring on how to fill out an application, since he would be turning 18 soon and wanted to work at Besser. Student feedback included "this helped me see a four year degree isn't the only option", "this place is the future", and "[Besser] is always trying to invent new, better, and quick machines and love help from younger minds."
---
TUBEFAB ROMAN ENGINEERING – Afton, MI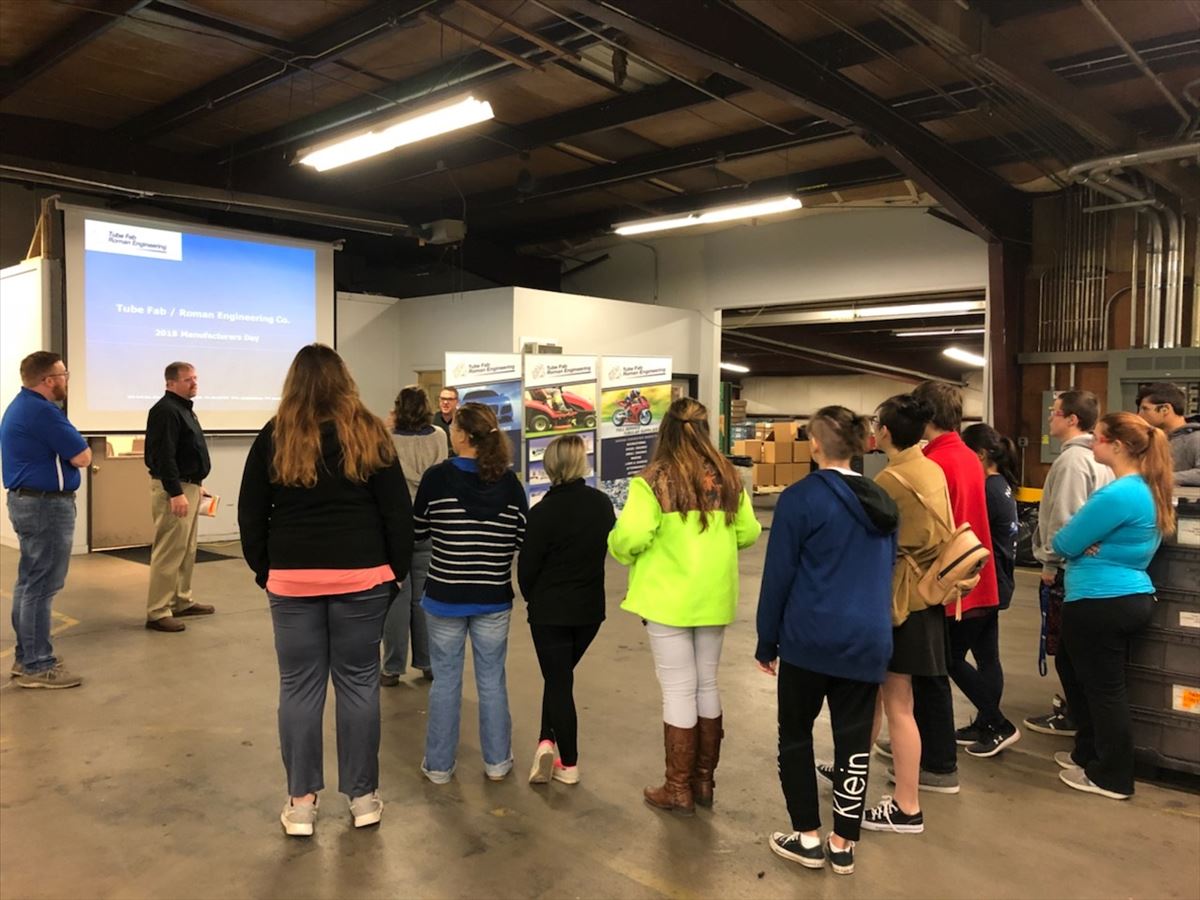 On October 11th, 37 students from Inland Lakes and Wolverine Schools toured Tubefab Roman Engineering in Afton. After an overview of the company in the shop, safety measures and an explanation of what TubeFab produces were covered. Students were broken into three groups and led on tours through different parts of the company (production, lab, quality). On the production floor, students were shown how parts are assembled, what finished and unfinished parts look like, and how the presses run. During the lab tour, students were shown how parts progress from the design stage, then are sent to be finished through the CNC machine, the 3D printer, the CNC router, and then finally they become finished product. In the quality lab, they learned how technology is used to ensure parts are produced to specifications, and they learned more about the physical checks and scans that are in place to insure no bad parts are shipped out. During each area, students were shown what tools were used for the jobs and were educated on the credentials/skills required to work in each department. Many students were interested to learn what TubeFab produced and were surprised that this existed locally.
---
ESI INDUSTRIES – Alpena, MI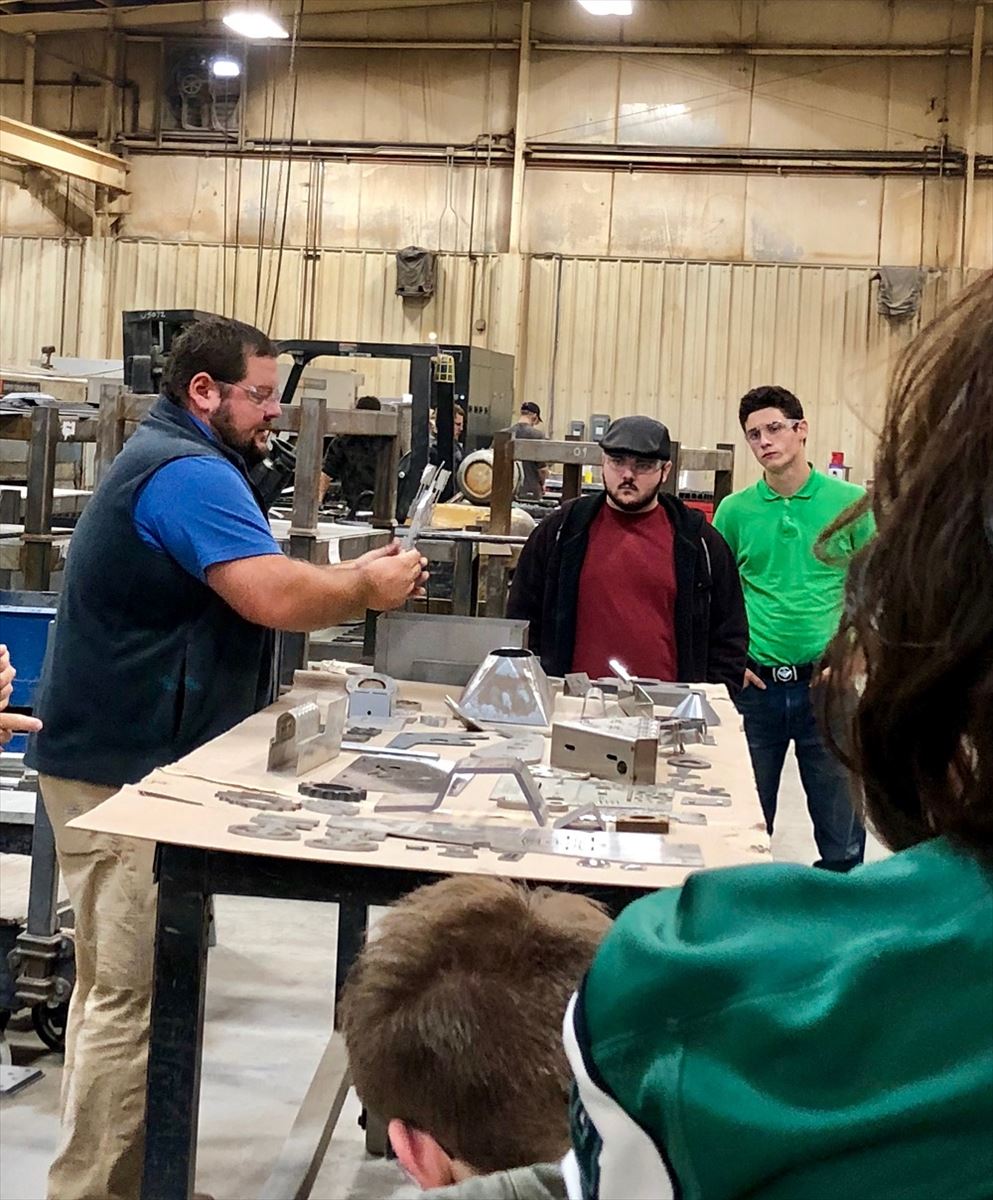 On October 12th, 28 students from Alpena High School toured ESI's facilities (Employment Services, Inc). ESI is a local manufacturer that employs over 900 people in the Alpena area. Students toured two of ESI's facilities, seeing multiple pieces of equipment and end products. Brian VanWormer of ESI described the processes, equipment, jobs, and more to the students. Students were engaged throughout the tour and interested in learning about the way different items in the shops are manufactured. After the tour, VanWormer will be doing a follow-up presentation at the school to describe further what positions ESI has available and what it would take to get these positions. Michigan Works' Jessica Hellenberg will also be presenting to students on resumes, tuition assistance, training assistance programs and more.
Student feedback included:
"For me, it was more than I expected to see and it was very interesting. I have been to other manufacturing buildings, but to see where every individual part is was interesting."
"I didn't realize there was such a big operation in Alpena competing with other companies on a global scale. It was very cool to learn that 900 people are employed here locally."
"I always use to believe it when people said there were no jobs here, but now I have seen this and this has changed my perspective."
ESI does approximately a dozen talent tours a year, and they strive to educate students entering the workforce.
Created on Monday, October 22, 2018