Home / News / Springs Window Fashions Gets Green Belt Certified Thanks to Collaborative Training Grant
Springs Window Fashions Gets Green Belt Certified Thanks to Collaborative Training Grant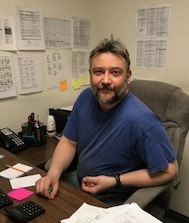 Springs Window Fashions has benefited from several training programs through Michigan Works! during the past two years. In 2018, they received $3,000 as part of a STTF Collaborative Grant for Six Sigma Green Belt Training. With these funds, Springs was able to send two supervisors through Six Sigma Green Belt Training for lean manufacturing at Kirtland Community College.
The Green Belt Training was Springs Window Fashions' first step towards improving efficiencies and giving them lean manufacturing strategies, thus driving money to the bottom line. Once Green Belt Training has been completed, the company aims to achieve Black Belt Certification to propel them towards even leaner strategies.
Trainees Royal and Ken have both participated in other trainings provided by Michigan Works! as well, including two levels of Excel to advance their skills. The training they've received has even led to one of them being promoted.
At the Green Belt Training, Royal and Ken learned the concepts of lean manufacturing, including having a clear commitment to making decisions on the basis of verifiable data and statistical methods, rather than assumptions and guesswork. This allows them to make confident decisions, which is a quality Springs looks for when advancing employees to higher levels within the company.
Springs' HR Manager, John Metts, is thankful for the training assistance, reporting, "The two employees receiving the training were newer supervisors and this training gave them much needed knowledge to help implement efficient practices in their areas and around the facility. The training was beneficial to their subordinates as well and helped develop our supervisor's ability to train others. Thanks again to Alayne Hansen and Michigan Works! for all they do to help business in Grayling."
Michigan Works! Northeast Consortium has assisted Springs with several On-the-Job Training contracts, Lumber Grade Certification training through another STTF Collaborative grant, and Incumbent Worker Training grants used to upgrade Excel levels for five employees.
Created on Friday, October 12, 2018