Single-Mom Working 3 Jobs Doubles Pay After Help from Michigan Works!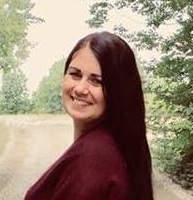 When April Taylor came to the Cheboygan Michigan Works! office, she was looking for a solution. She was a young single mom and juggling three jobs to try to support her family, but with her work schedules she was really struggling to spend quality time with her children. She had already made some lifestyle changes, by attending church and focusing on providing for her family, but she knew she needed to find full-time employment to help her family thrive and move forward.
At Michigan Works!, Career Navigator Stephanie Weizer helped April with her job search, helped to build her resume, and discussed interview techniques. Thanks to the guidance provided by Michigan Works!, April was able to secure a full-time position with benefits as local grocery deli associate.
April says that one of her biggest challenges was just finding the time to come in to Michigan Works! for assistance, as working three jobs doesn't offer much free time. But, she says it was a great decision, "Without your help this never would have happened! This more than doubled my pay!"
Created on Tuesday, October 9, 2018