Perseverance and Dedication Pay Off to Earn GED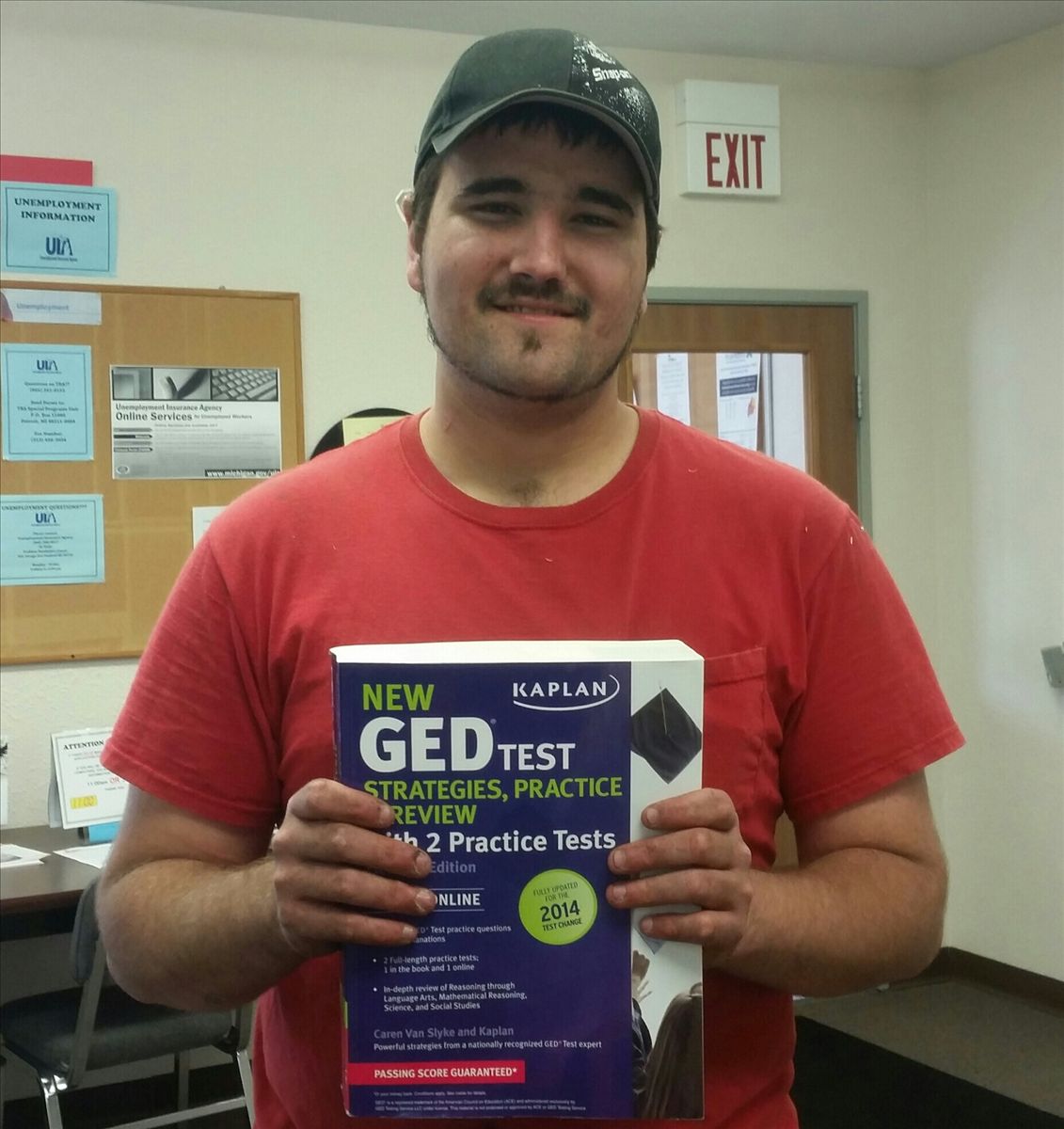 After slacking off at the beginning of high school, Austin Skinner decided it was time to get serious. He attempted to re-enroll in classes, but was told he'd be too old to graduate and receive a high school diploma. Determined, Austin started coming to the Gaylord Michigan Works! in September 2014 to study for his GED.
Austin didn't have a vehicle or a ride, so for 7 months he walked to MW, even during the winter through -30 degree temps. Resolute on earning his GED, Austin came in on average 4 times per week to study the gigantic GED book.
Along with a quiet place to study, Cassie Rodgers and Shelly Blankenship, both Talent Specialists, often gave Austin words of encouragement. They encouraged him to contact the GED Instructor for extra assistance if needed. Austin would often sit with Cassie or Shelly to discuss his plans once he obtained his GED.
One of Austin's goals was to join the National Guard. The GED would prepare his mind, but to prepare his body, he needed to stop smoking. It was difficult for him, since his parents both smoked. Cassie and Shelly's encouragement helped him, reminding him of his goals, even when staying on track was difficult. After about 3 months of quitting smoking, he had a minor relapse, but after having a hard time breathing on his jog in to MiWorks, he got back on track.
On 5/19/15, Austin earned his GED! He is planning on enlisting with the National Guard and working towards his bachelor's degree in Business. After that, he hopes to enlist in the Marines and retire from there.
Dedicated to his goals, Austin persevered, even though it was challenging at times. Thanks to the motivational words and support of the Michigan Works staff, Austin kept at it. His 7 months of hard work paid off! He should be very proud of his efforts!
Created on Tuesday, December 29, 2015