Michigan Works! Job Fair Yields Hiring Success for Choice Services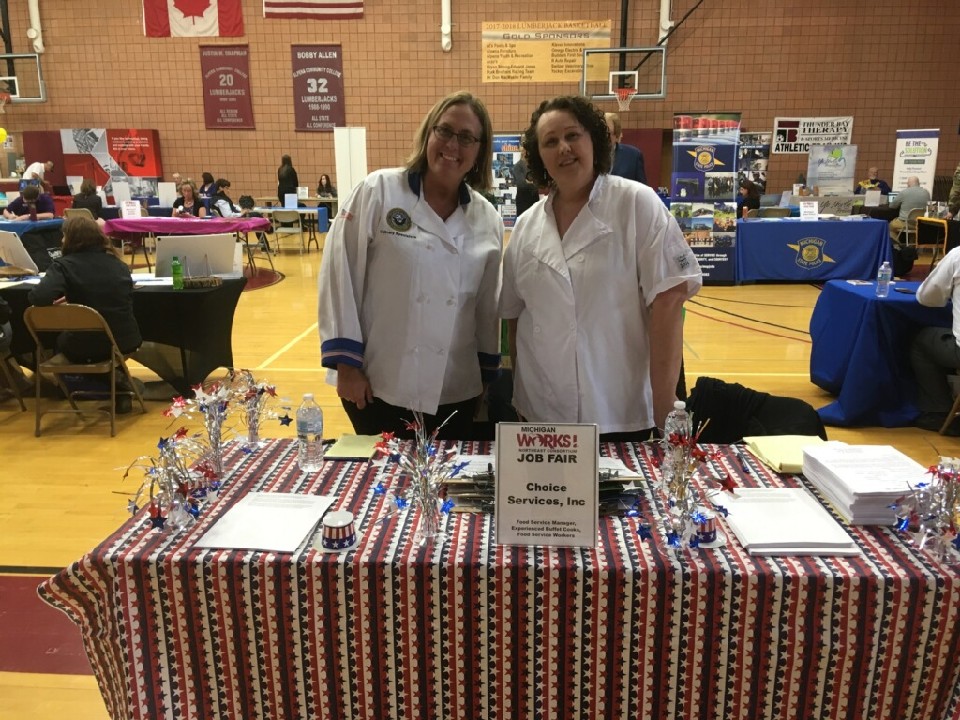 Choice Services Inc. is a federal contractor who provides food service workers to the military. They are based out of Grand Rapids, MI, but have a large presence at the air base in Alpena, MI.
Choice Services Inc. was struggling to find enough staff members to operate at the necessary capacity when they were set to open at the Alpena air base. They needed assistance finding a Food Service Site Manager, experienced Cooks, and Food Service Workers, so they came to Michigan Works!
Michigan Works! Business Services Professional, Jessica Hellenberg, posted their job openings on the Pure Michigan Talent Connect website. Michigan Works! also invited Choice to participate in their annual job fair, as well as utilize their Service Center's Interview Room for follow-up interviews.
Thanks to the assistance that Michigan Works! provided, Choice Services was able to fill 25 positions, which, in northeast Michigan is a big accomplishment for both the Choice Services and the area's job seekers.
Nancy Haaser-Jones with Choice Services states, "We used to do interviews at an area hotel until we came to learn about the wonderful resources at Michigan Works! They provided an awesome confidential interview room; they are really centrally located, everyone knew where to go, and made it easy for them to interview. We have used Michigan Works! for three years in recruiting. They made it so easy, it was a comfortable environment, great candidates, and the job fair was surprisingly awesome and had a really good turn out. We fulfilled all of our goals and interviewed and hired 25 people. We have used other avenues of hiring before, such as Indeed, but Michigan Works! was by far the most successful in securing the number of staff members we needed and the quality of the candidates. And 4 weeks out from hiring, we have 100% retention, which tells me they were good candidates to start out with."
Created on Tuesday, July 31, 2018