Michigan Works! Helps Job Seeker Find Encouragement and New Job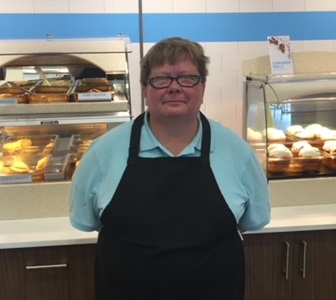 After working at Walmart for 14 years, Julie Krajnik found herself unemployed when the store went through a reorganization. She came to Michigan Works! often, searching for a comparable position.
At Michigan Works!, Julie received job search assistance, help with her resume, and encouragement from Talent Specialist Mary Davis. After much searching, Julie finally found a position with Holiday Inn Express, as a Breakfast Host.
Julie says she learned that sometimes things will happen for the better and that you should never give up. Now happily employed, Julie loves working at the breakfast bar, meeting new people, and serving them. She was told by co-workers that she is a great employee.
"In the two years that I have been coming to Michigan Works! the staff have been very helpful," says Julie. "At times I felt like I was a pain, but they were very supportive, evoking a sense of accomplishment and self-worth."
Created on Wednesday, July 18, 2018