Commercial Cleaning Company Capitalizes on Collaborative Training Grant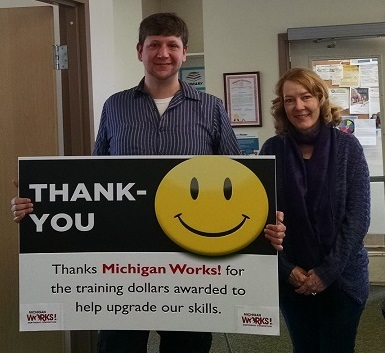 Shine Cleaning Services is a locally owned and operated full-service cleaning service specializing in commercial cleaning services in northern Michigan. The company recently expanded to serve residential customers as well. Like many other companies experiencing growth, as they grew, they found themselves challenged with rising operating costs and a slight decrease in profit margins. Shine's owner, Garrett Godfrey, approached Michigan Works! of Grayling looking for help identifying where productivity was being lost within their operating process and where to turn for training opportunities to run their business more efficiently. They also needed help managing their inventory and supply ordering.
Working together with Kirtland Community College, Michigan Works! Business Services Professional Alayne Hansen, found other area businesses were facing similar challenges. This led to a collaborative solution which would help multiple employers at one time. Through the Skilled Trades Training Funds, an Industry-Led Collaborative grant for Six Sigma Green Belt training was awarded. Six local employers joined the collaborative, resulting in 12 employees receiving Six Sigma Green Belt training provided by a Kirtland instructor. The companies, spread across three northeast Michigan counties, included ADJ Forest Products, HB Carbide, Metalfab, Shine Cleaning, Springs Window Fashions, and Weyerhaeuser.
Shine Cleaning's owner noted the following highlights resulting from the collaborative training experience:
We realized that there was a better way to operate business as we knew it.
I was able to form relationships with other employers who were in the training and it gave me an opportunity to expand my customer base through those contacts.
We now have route maps, not only for driving directions to each work site, but internal building route maps showing building layouts with detailed instructions which areas we are responsible for cleaning. As well as any pertinent notes and information related to the job site or designated cleaning area.
"Because of the training I received, we've established a system for going into a business and identifying with door magnets the flow of our cleaning personnel performing their individual duties in the area," reports Garret. "Green identifies the first round of cleaning. Once that person is finished, the magnet is flipped to red, signifying it's ready for the floor specialist to complete the area. The magnet is removed after the final round of cleaning. This has saved numerous steps and lessened down time waiting and circling back to see what areas are incomplete and/or complete. As for inventory, we now reload our cleaning carts more efficiently so there are less movements and reaches for the products. We also color code our cleaning carts and know which products are stocked in the pertaining colored cart. And we restock the cleaning carts at the end of day in preparation for the next day's assignments, freeing up the mornings to get straight to work. We've streamlined our inventory and our supply ordering based on principals learned through the training. The connections made with other employers in the training has given me access to bid out possible new accounts, and has opened up new relationships to act as guides and mentors. Shine Cleaning Services is very appreciative of the training and would be interested in pursuing Black Belt training as well."
Garrett continues, "The many little changes I've made in how I operate my business has led to a noticeable difference in my bottom line. As I'm bidding out new contracts, I now have a better understanding of operating a leaner business and can position myself to comfortably expand services to a larger customer base."
Created on Monday, June 4, 2018