NEMCOG Receives Recycling Award!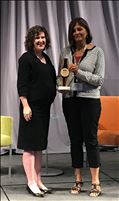 The Northeast Michigan Council of Governments was recognized with a Recycling Award at the Michigan Recycling Coalition Conference in Kalamazoo on May 17, 2018. The MDEQ selected three businesses/organizations to receive special recognition for successful partnerships, innovation, extra effort, overcoming adversity and consistent progress toward improving recycling in Michigan. NEMCOG was selected because the agency has demonstrated that success comes through partnerships among knowledgeable and forward-looking professional staff, volunteers, and community leaders. NEMCOG's continuing efforts to provide the region with program coordination, fiduciary support, and collaborating on studies and reports highlighting recycling best management practices and successful Michigan programs were highlighted at the award ceremony.
The award itself was created by the Architectural Salvage Warehouse of Detroit and features the following materials: The stone base is cut from marble salvaged from the former Detroit Fire Department headquarters. This iconic building is now home to The Detroit Foundation Hotel. The wood body is created from 2X10's salvaged from a commercial rehabilitation project on Woodward Avenue. These 2X10's were used to manufacture "Voice" passive amplifiers for Detroit Auto Lab. The wood medallion is crafted from maple trim salvaged from "The Factory at Corktown" project, a major adaptive reuse that will soon house Ford Motor Company employees among other tenants. ASWD is a non-profit corporation based in Detroit with a mission to transform building material waste into opportunity.
Photo: Diane Rekowski (Executive Director of NEMCOG) accepting the award.
Created on Tuesday, May 29, 2018