Skills Upgrade Training Through Michigan Works! Leads to Promotion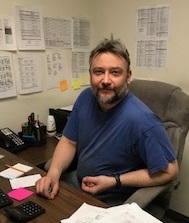 Royal Shearer was working production at Springs Window Fashions and had all the signs he was meant to be in a higher position at the company. The only thing holding him back was a lack of Excel skills. The company uses the software in their daily operations so it's crucial to have employees trained and confident in the software. Royal knew he'd need to become skilled in Excel to move up the ladder and take on more responsibility, such as managing production, scheduling and inventory spreadsheets.
Springs Window Fashions reached out to Michigan Works! to see if there was any way to offset the cost of the training needed. Fortunately, through Michigan Works! Incumbent Worker Training funds, five Springs employees were able to receive training in beginning and intermediate Excel. The training was provided by Kirtland Community College's Business, Workforce, and Community Development Program.
Shortly after Royal's Excel training he was promoted from Operator II to Sanding/Engineering Products Department Coordinator, increasing his hourly wage by over 30%. In March 2018 he was promoted a again, becoming Coordinator in the Engineering Department, with another 15% pay increase.
Thanks to Michigan Works! securing the Incumbent Worker Training funds, both Royal Shearer and Springs Window Fashions have benefited. It's important to realize, when an employee has the motivation and drive to move up in a company but is lacking specific skills, like Excel, there are opportunities available to help them. In this case, Royal's personal drive and determination to increase his skills, have resulted in a win-win for Springs.
"Royal Shearer came to Springs Window Fashions in the summer of 2014 and went to work as an Assembler/Operator I and worked in several areas of our facility. He proved himself to be motivated and intelligent, always looking for ways to improve our process and his individual performance and knowledge. In less than a year, he had been promoted to Assembler/Operator II and was running the Finger-Joint line," says John Metts, HR Manager at Springs Window Fashions.
He continues, "Royal expressed a desire to move up in our organization and we began discussions with Alayne Hansen at the Grayling office of Michigan Works! to determine what advanced training might be available for Royal to aid him in his advancement. Alayne was helpful, as always, and we began scheduling him for Basic and Intermediate Excel classes and other leadership courses. Because of the training he received through Michigan Works!, Royal became one of the lead team members on the Safety Team and began conducting trainings and holding meetings. Later that year, he was promoted to Backup Coordinator due to his skills upgrade in Excel. This position gave him a broad knowledge of the functions of all our departments, including increased understanding and ability to interpret our complex spreadsheets used for production and scheduling. With this knowledge, he could step in for any of our supervisors on vacation or out on leave. He did so while continuing to run the Finger-Joint line."
"In 2017 Royal was awarded a High Performance raise for his efforts. In March of 2018 Royal was again promoted to Coordinator in Sanding and Engineered Products. Royal is a real success story as someone who worked both harder and smarter and made his way up through the ranks. We continue to rely heavily on Alayne Hansen at Michigan Works! for training for all of our people and hope to do so in the future."
Created on Tuesday, April 10, 2018