Rising from Public Assistance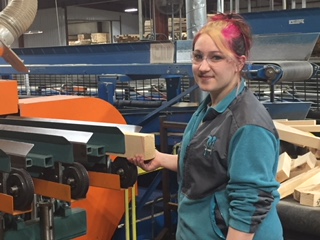 Without a job and out of options, Jessica Ramsey applied for public assistance to help support her family. She had worked at McDonalds most of her life, but wasn't earning a self-sustaining wage. Her goal was to get out of her comfort zone and apply at a factory. Jessica hoped it would lead to a more sustaining position to support her family; family is the most important thing to her and she would do anything for her family.
To sharpen her job seeking skills, Jessica attended Michigan Works! employability skills workshops. While in the AEP program, she actively job searched and was able to secure employment in only her 2nd week in the program. With the help of Michigan Works!, Jessica got hired at Springs Window Fashions in an On-the-Job Training program. Michigan Works! also assisted with mileage reimbursement during her workshop attendance and job search, and even provided steel toed boots and work clothing, which were needed to start her new job.
Jessica has since completed her OJT and is still working at Springs 10 months later.
"We love Jessica. She is an amazing gal," says John Metts, HR Manager at Springs. He continues, "Jessica is doing extremely well at Springs in production. She's very hard working, conscientious employee. She works very well within the Springs culture."
This experience has taught Jessica to never hesitate to apply for a job you really want. To go for it, even if you don't have all the qualifications to do it, and that training is often available.
"I appreciate Michigan Works! and all they have done to help make my job successful," says Jessica. "I especially liked the steel toed boots and work clothing they provided to get me started. Thank you, Michigan Works!"
Created on Tuesday, March 27, 2018