Home / News / State Policy, Talent Leaders Honor Michigan Works! Northeast Consortium's Workforce Development Results
State Policy, Talent Leaders Honor Michigan Works! Northeast Consortium's Workforce Development Results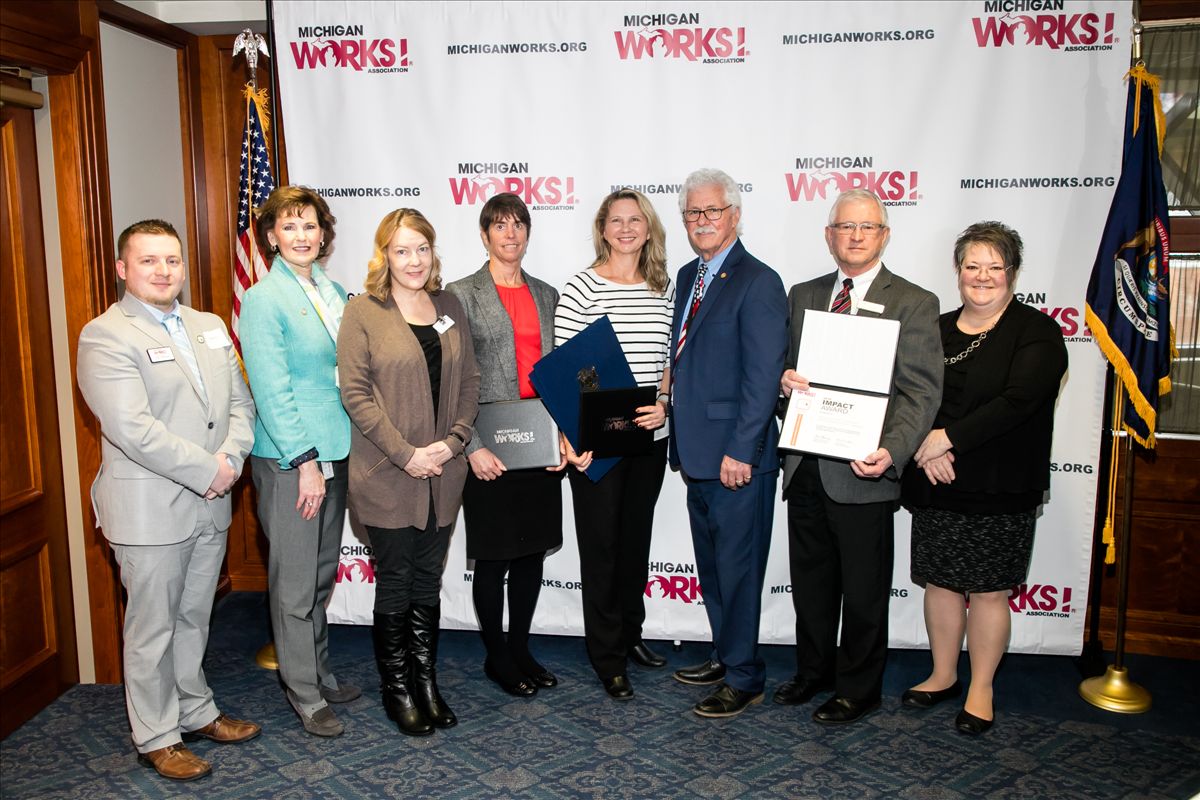 L-R: Collin Hoffmeyer (MW!), State Representative Daire Rendon, Alayne Hansen (MW!), Marisue Moreau - Director (MW!), Rina Bethany (Weyerhaeuser), Senator Darwin Booher, Tom Quinn - President (Kirtland Community College), Erine Adams (Kirtland)
LANSING (February 22, 2018)— State leadership and lawmakers came together this week to honor northeast Michigan leaders for their efforts to create jobs and develop talent in their communities.
Legislators and statewide talent development officials recognized Weyerhaeuser, local resident Curtis Marculewicz and Kirtland Community College with 2018 Impact Awards.
The Grayling Weyerhaeuser Mill has been an active employer in the local community for 35 years. Committed to growth, they plan to invest over $75 million into their facility over the next five years.
They also invest in their employees by encouraging continual growth and education, providing recognition programs and goal setting for career advancement.
Weyerhaeuser works closely with Michigan Works! to help with staffing and training needs and recently trained nearly 80 individuals.
Curtis Marculewicz visited Michigan Works! to seek support in finding a career, not just a job. Michigan Works! was able to connect him with Weyerhaeuser through an On-The-Job training opportunity.
Curtis was able to receive the support he needed to learn a new trade, secure employment and gain stability with one of the largest, best-paying employers in the area.
Additionally, Michigan Works! helped Weyerhaeuser secure over $37,000 in Skilled Trade Training Funds.
Through their strong partnership with both Kirtland Community College and Weyerhaeuser, Michigan Works! established a training plan, which resulted in Weyerhaeuser's Apprenticeship program becoming USDOL certified.
"This kind of result is incredibly encouraging and speaks volumes to the importance of the resources Michigan Works! offers," said State Senator Darwin Booher (R-Evart). "This success illustrates what is possible when employer-driven solutions to our most significant workforce challenges are thoughtfully designed and carefully implemented."
The Impact Awards, hosted by Michigan Works! Association, honor the finest achievements in workforce development statewide, from the creation of new jobs to the accomplishments of hardworking citizens.
During the annual event, lawmakers present tributes to award winners, employers, workers, Michigan Works! Agencies, and partners, who share their stories and the role Michigan Works! played in their success.
"I'm especially encouraged by the partnership between Weyerhaeuser, Kirtland Community College and Michigan Works!," said State Representative Daire Rendon (R-Lake City). "Training local workers for good paying jobs is a cornerstone of our community's success, and we are grateful to have Michigan Works! as our go-to resource to achieve these results."
Michigan Works! Association is a non-profit membership organization that provides services and support to Michigan's talent eco-system. For over 30 years, the Association has been a go-to resource in federal, state and local workforce initiatives. The Association's work ensures top-quality services and support for Michigan's talent pipeline. For more information, please visit michiganworks.org.
Created on Thursday, March 1, 2018