MEC, Inc.'s Commitment to Excellence Includes Employee Training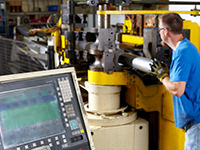 Mayville Engineering Company's two manufacturing facilities have been in Vanderbilt for the last 50 years, and we have employed hundreds in the Northern Michigan region. The Vanderbilt facility is becoming the flagship small-diameter tube bending facility in MEC's family of 17 facilities nationwide. Their products can be found throughout the commercial trucking, agriculture, forestry, and power sports industries with customers like Caterpillar, GM, Volvo, Navistar, John Deere, Polaris, and Arctic Cat. Since MEC is 100% employee-owned, every employee has a financial interest in improving MEC's products, processes, and employees. Because of their employees, MEC was named the Top Fabricator by The Fabricator magazine for six consecutive years and can be found on the prestigious Inc. 5000 list of America's Fastest-Growing Private Companies.
Manufacturing has changed tremendously over the last 50 years, though, capitalizing on computer technology, laser and plasma technology, as well as robotics to improve productivity, accuracy, and safety. Recognizing this, MEC has invested more than $3 million to update technology in their Vanderbilt facilities, including new energy-efficient lighting systems, robotic welding cells, and a state-of-the-art tube inspection system that uses high-definition cameras and 3D rendering software to verify accuracy of the tubes coming off their three new CNC tube benders. The system is capable of reporting back variances between the programmed product and the finished tube and remotely correcting the machine, thereby reducing the time an operator would typically spend calculating, testing, and correcting the tooling as well as drastically cutting our steel, copper, and brass scrap. With a cycle time of 40 seconds per part, one operator on one of the robotic welders is capable of precision-welding more than 1,750 parts over a ten-hour shift. But, with these upgrades comes the need for continuous training of workers.
Nearly one-third of MEC's plant employees are within five years of the retirement age, and most of the employees they have hired over the last 10 years had no prior training in key manufacturing concepts like blueprint reading or geometric dimensioning and tolerances (GD&T). Additionally, almost none of their employees came to them with any training in computer-numerically controlled (CNC) programming, a necessity for in-house tool and die builders and set-up operations of many new machines. As MEC has invested in new technology to maintain their commitment to excellence and status as a premier manufacturer, they have also had to invest in their employees by updating the skills and knowledge of their workforce.
MEC is a well-respected manufacturer and employer in Region 3. With the help of Michigan Works! Northeast Consortium, MEC has filled many open positions, advertised vacancies on PMTC, and have participated in Talent Tours for high school students. In 2016/2017, they worked with Michigan Works! to secure Skilled Trade Training Funds in the amount of $2,670. They utilized these training funds to train five existing employees in AIAG - Product Part Approval, Failure Mode, Taking Effective Corrective Action, and Transitioning to IATF.
"STTF funding in 2016/2017 allowed us to invest in our Quality Team," says Brooke Sprenger, Sr. Regional Human Resources Manager at MEC. "We sent four team members to in-depth training in PPAP, FMEA, and Corrective Actions, [which are] vital tools we use in meeting our customers' needs. More importantly, it gave us the opportunity to further develop the careers of our employee-shareholders, certifying their skills and abilities in these processes used throughout manufacturing industries."
Created on Tuesday, February 6, 2018