Local Manufacturer Awarded $32k in Skilled Trade Training Funds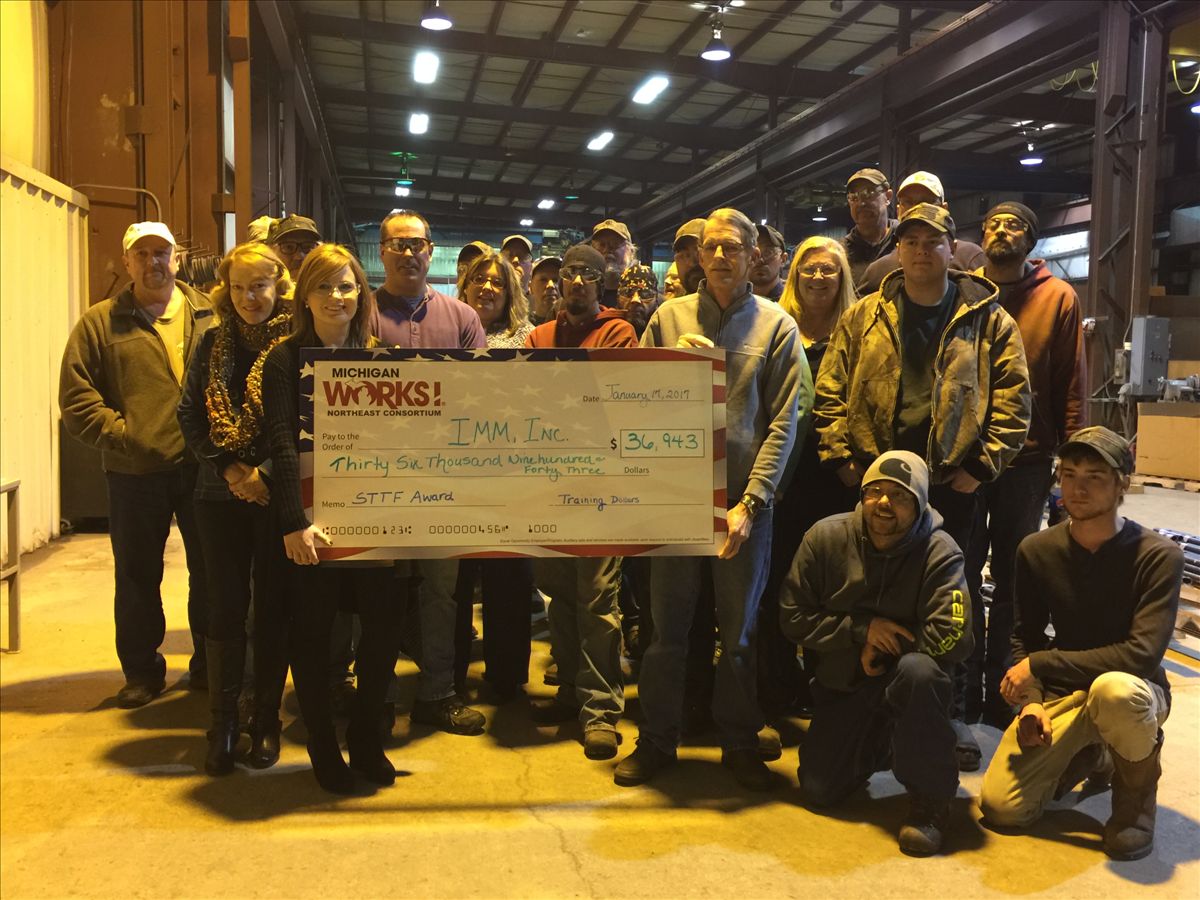 Since 2002, IMM, Inc. has been contributing to the economic vitality of the Grayling community and surrounding area, gaining a reputation in Northern Michigan and throughout the country for quality, integrity and professionalism in metal fabricating and industrial installation. This reputation has been earned by dedicated employees along with an owner who values and commits to continuous training and improvement of skills in order to remain competitive. IMM, Inc. has grown from 10 employees to over 40, and has plans for further expansion.
As more and more IMM customers were requiring certified riggers on their jobsites and insurance companies were requiring certified riggers be used on rented equipment, IMM realized that by strengthening the skillsets of their existing workforce, they could avoid layoffs of their less skilled workers. In addition, they could outsource less work that could be done in-house by getting their employees additional welding certifications and training. Embracing a promote-from-within mentality, IMM realized that additional training would allow both existing and new employees to fabricate at the highest quality demanded in their field of work, as well as result in higher employee wages, since their pay scale is based on employees' skill levels and certifications.
In August 2016, IMM began working with Michigan Works! Northeast Consortium and Business Services Professional Alayne Hansen to develop a training program. Thanks to Michigan Works! assistance, they were awarded Skilled Trade Training Fund dollars totaling $32,087, which IMM utilized to train 26 employees, create four new jobs, and backfill seven positions.
The STTF funding helped IMM upgrade their welding capabilities to enable them to broaden their scope of work. This welding training brought employees to a new level of ability that will stay with them throughout their careers. IMM's newly certified riggers can now safely rig large pieces of equipment and are able to work confidently with crane operators on any jobsite. They're also now in compliance with upcoming OSHA mandates.
One of the main challenges IMM faced was scheduling the training while keeping work flowing. While there really never is a good time to take employees away from their productive worktime, IMM was fortunate to have flexible trainers and supervisory personnel who saw the value in "fitting in" this training alongside the workload. They were able to stagger the welding training so not all welders were away from their work at one time. They also had employees willing to come in on Saturdays for some training. IMM's President believes so much in the benefits of training and the opportunity offered by STTF, that she willingly authorized the loss in productivity and the overtime costs to cover the training time.
"We are grateful to the State of Michigan Skilled Trades Training Funds and Michigan Works! for helping IMM, Inc. and its employees to achieve new levels of expertise and abilities," says IMM HR Manager, Sandy Moody. "We have added new fabricators in our Shop operations and expanded our Field Division as a result of this training. We are bidding new work with confidence that we will be able to fulfill our obligations with greater skill and safer methods for both our old and our new customers."
"We believe in encouraging our employees to be the best that they can be," says IMM owner, Libby Doering. "In that effort, we provide training and mentoring. We ask them what they think they need to learn to do their jobs better. The training we were able to provide with assistance from the STTF monies has given employees new skills that make them very attractive to other companies. We won't hold employees back if they feel they have an opportunity to do better. Because of that, we did lose one new crane operator, two rigger/signalpersons, and three welders to competitors after training was completed, however, we have brought in new people to replace them as well as additional staff to meet our growth. We are proud to tell applicants that we provide training for our employees. These new people will be trained in the disciplines covered in our 2017 STTF grant and other types of training in the near future."
Created on Monday, October 2, 2017