Weyerhaeuser Trains 75+ Thanks to Michigan Works! Programs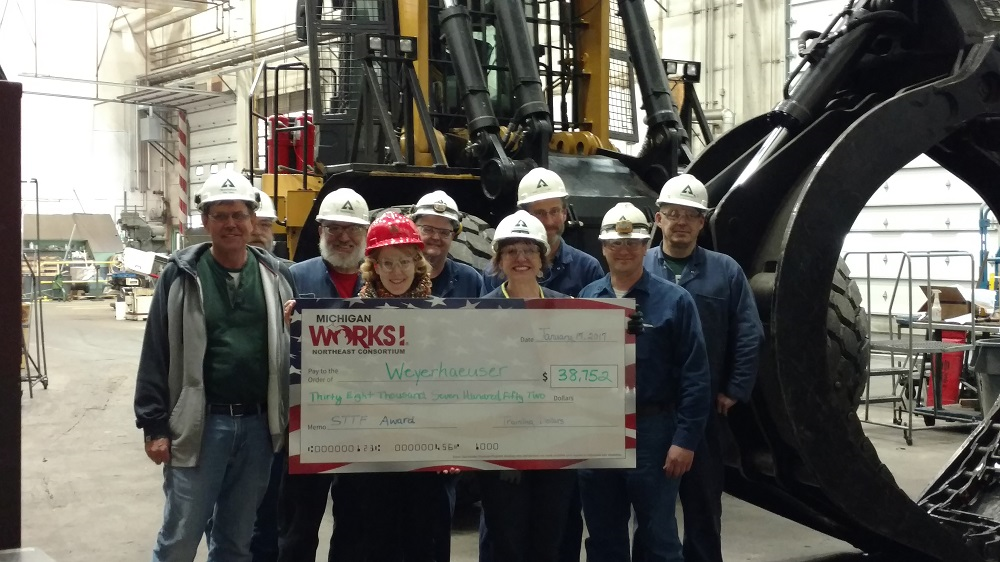 The Grayling Weyerhaeuser Mill has been an active employer in the local community for 35 years, manufacturing OSB primarily used in residential construction. Committed to growth, they plan on investing over 75 million into their facility over the next 5 years. Like many northern Michigan employers, they sometimes struggle with hiring and training staff, as they are currently facing 5-10 retirements per year and have had to hire nearly 50 new employees over the last 4 years alone.
Weyerhaeuser has been a long standing employer in Grayling with the majority of employees making their time with the company into a lifelong career, staying through retirement. As one of the top paying employers in Crawford County, Weyerhaeuser invests strongly in their retention strategy by providing a work environment where people enjoy their work, along with offering excellent pay and benefits. The company encourages continual growth and education opportunities, involves employees in decision making through leaderless shifts that promote empowerment, employee recognition programs, and goal setting for career advancement within the company. Their success is apparent considering their 95% retention rate, for which they were recognized at the 2016 Governor's Summit.
Weyerhaeuser invests heavily in training and education. Employees are encouraged and motivated to strive for advanced career opportunities within the company. In fact, over a dozen current Weyerhaeuser executives started in entry level positions within the company.
Over the past few years, Weyerhaeuser has relied on Michigan Works! to help with staffing and training needs, taking full advantage of programs designed to place out-of-work people into the workforce. Michigan Works! has recruited for them via the PMTC site and has also provided a testing location to test over 150 applicants. They've also participated in Michigan Works! Talent Tours and Student Career Expos, which expose local students to the opportunities available in their own backyard and the career path necessary to secure these jobs. Weyerhaeuser has also taken advantage of the Michigan Works! On-the-Job Training funds (OJT). Most recently, two employees hired on through the Michigan Works! OJT program successfully completed their contracts and have remained excellent employees and thanks to the OJT program, Weyerhaeuser received reimbursement of over $8k for their training and development. Thanks to the services they've received from Michigan Works! over the recent months, Weyerhaeuser has trained 79 individuals, filled 2 new positions, and created 2 new jobs.
For three years, Michigan Works! Northeast Consortium has helped Weyerhaeuser secure Skilled Trade Training Funds, over $37,000 this year alone. The company utilized this year's funding to train 56 employees in skills such as crane operations, hydraulics, six sigma, and Rockwell automation studio. One of their challenges in providing training to their 170 team members is that the mill runs on rotating shifts, making it difficult to plan classroom training. Fortunately, thanks to a strong partnership between Kirtland Community College and Michigan Works!, training plans were established that brought instructors directly to the company.
During a recent Governor's visit to Grayling, Weyerhaeuser was selected as a panel speaker. They spoke about their commitment in investing in employee growth through education and training to fill the skills gap. The STTF awards allow Weyerhaeuser to continue their mission of training employees for further growth and advancement and providing career opportunities for all their staff, while continuing to remain committed to the economic growth and stability of Grayling and the surrounding area.
Thanks to Weyerhaeuser's strong partnership with Kirtland Community College, they recently became DOL certified for their Apprenticeship program, believing that building the skills of the workforce is vital to the continued success of the community.
In addition, Weyerhaeuser is an active member of the Michigan Works! Northeast Consortium Workforce Development Board, and has participated in the Rising Tide Initiative in Grayling.
"Michigan Works has been a tremendous business partner to our organization for many years. We place great value on their resources and ongoing support and contribution," says Lesley O'Dwyer. "The Skilled Trade Training Funding (STTF) has been invaluable and Alayne and the Michigan Works organization make that process flow smoothly by providing training and support throughout the process. In fact we were very excited to learn that because of the tremendous amount of training and development we are doing this year and the number of DOL certified Maintenance Apprentices we have in the program, we were awarded a very substantial grant in the amount of $38,000 to develop our technical skills in 2017. Alayne also wrote an On-the Job training contract for our recent new hire which resulted in $7,485 in reimbursement. Additionally Michigan Works lets us use their testing lab regularly for applicant testing which in invaluable to us and very much appreciated. This training, support and business partnership is vital to our continued success in the future and we rely on the support of our local office very much."
Created on Thursday, September 28, 2017