Veteran Gets Second Chance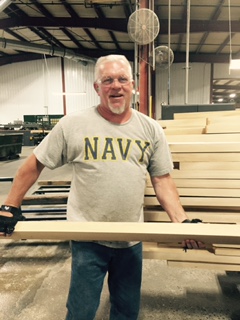 Neil Tomes came to Michigan Works! as a Veteran with slight disability. He could not work lifting heavy objects and was finding it difficult to secure employment that was not overly physical.
Neil worked closely with Michigan Works! Career Advisor, Linda Greenway, and Veterans Employment Specialist, Doug Robinson. Michigan Works! was able to match Neil up with an OJT (On-the-Job Training) position at Springs Window Fashions doing light-duty production work. Michigan Works! also provided assistance with mileage reimbursement for employment related activities.
Neil really enjoys his new job, which has surely contributed to his success. He's been getting excellent marks on his monthly time report and Springs is ecstatic to have him as part of their team. With the help of Michigan Works! and the Veterans Employment Specialist, Neil never gave up on pursuing a new career. He learned that even if you can't do what you use to be able to do, there are still good jobs out there that can make you very happy.
"I appreciate everyone's help at Michigan Works in locating a career that I can work at until retirement," says Neil. "I enjoy the comradery at Springs and the work gives me great satisfaction."
Created on Wednesday, September 6, 2017