Talent Tour at IMM Inc. in Grayling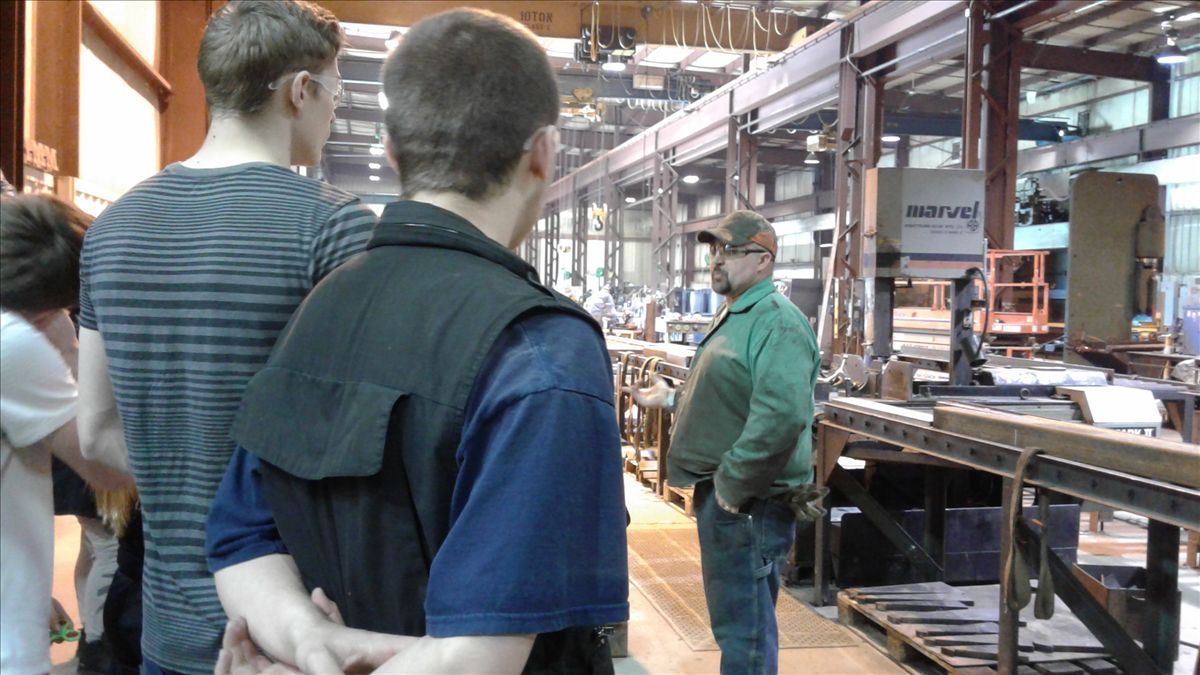 On May 10, 2017, 16 Grayling High students experience a day's work at IMM, Inc., a manufacturing company which utilizes high tech machines and automation.
The students toured the entire manufacturing plant and learned about what each machine produces and the skills needed to run the machines. They were able to see large pieces of steel being cut with a water jet steel cutter and large pieces of thin steel being bent and their edges crimped to be used for duct work. They were introduced to the cranes used to lift heavy pieces of steel to the paint room for priming and painting, and how those cranes were used for loading and offloading materials. In the plant yard, students were able to see some finished pieces ready to be shipped to customers. Some of the many products IMM produces include steel stairs and walk platforms, as well as machinery pieces for another local manufacturer, Weyerhaeuser.
The three employees from IMM who lead the tour enjoyed showing the students around. It was apparent they all liked their jobs with how well they spoke about the company, including all the generous benefits they receive, their four-day work week, and how they make good salaries to raise families and live a comfortable life on. The guides emphasized how important it is to have security in a job position that includes benefits and retirement options. IMM offers a very generous package, and the guides explained to the students that taking advantage of a savings plan is instrumental in preparing for their futures. The employees reiterated the in-demand opportunities available to start off working in the plant, even for those with limited skills, and discussed the many areas one could advance to once skills are learned.
IMM was impressed with the Talent Tour and look forward to doing another tour in October 2017.
Created on Tuesday, June 6, 2017