Visually Impaired Job Seeker Sees Employment Success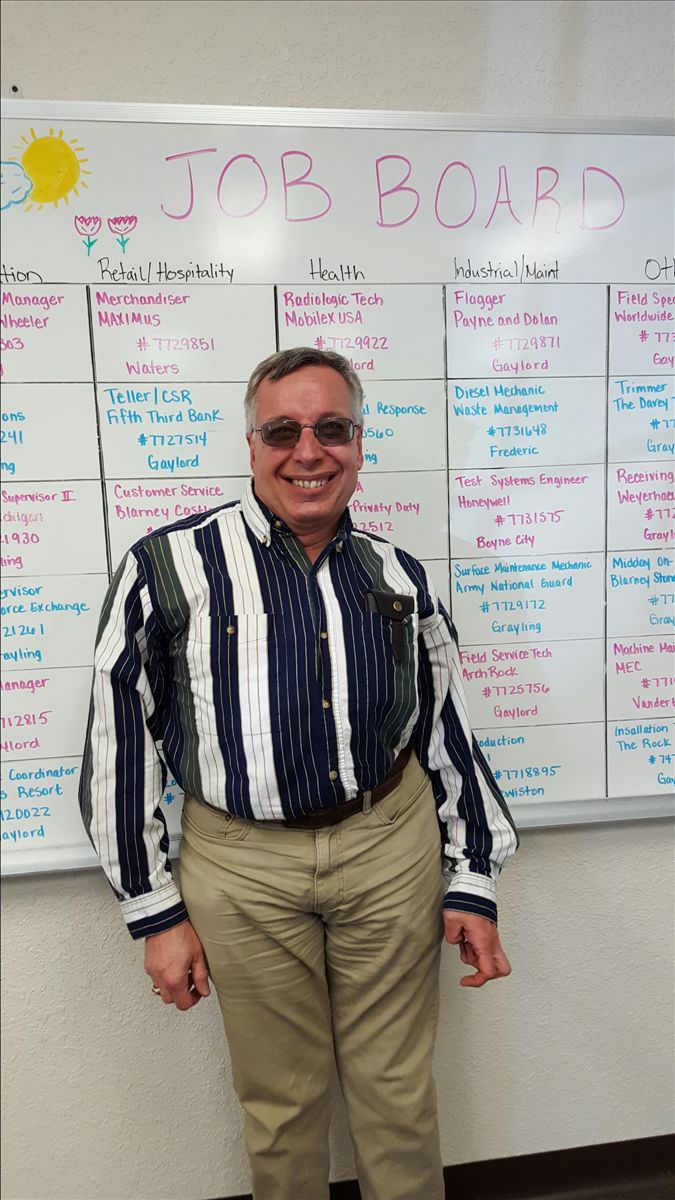 John LaFave is legally blind and has scoliosis. Due to his disabilities, John has faced many challenges to employment. Over the years, he has held a variety of jobs. He was employed at Kmart as Assistant Manager in the Electronics Department In Gaylord, but left Kmart to open his own business. After 12 years, due to hard economic times, he had to close his business, but he was able to find employment at Wendy's as a Crew Member. From there John found a better opportunity with Office Max and worked there until they closed in November 2016. John was able to overcome his disability barrier to employment thanks to employers who took a leap of faith with him and gave him a chance to prove that he was dependable and a worthy hire.
Recently, John's experience with employers hasn't been so great. He attended an open interview at Michigan Works for Panera Bread and was hired even before he could finish his application. But then the new area manager never called John for his training, despite John's repeated attempts to contact him. Then John was hired at The Brook as a cook and even went through an unpaid day of job shadowing. Unfortunately, The Brook didn't have the proper utensils required to accommodate John's disabilities (such as measuring cups with legible lines, etc). When John called them to confirm his schedule he was told he wasn't actually hired and that they were still interviewing others and would get back to him. They never did. He called them back to check the status of the position and was told that they wouldn't be hiring him since he was "too slow."
John worked one-on-one with Michigan Works staff members Jennifer Coughlin and Shelly Blankenship to build his resume, receive computer assistance, get help calling job leads, and get help with online applications. With his persistence and the employment services help that Michigan Works provided, John was able to secure temporary employment at Lowe's making 23% more than he previously did per hour. He is hopeful that the position will turn into a permanent one.
"After first walking into Michigan Works in September before getting laid off I was impressed with staff. I hadn't even applied for UIA yet, but they gave me all kinds of encouragement to seek employment and helped me with the computer because I couldn't see the screen. They made sure I had access to other sites to seek work as well as PTMC. They were very knowledge on many aspects of job hunting. They were very patient helping me every time I came in, even when I came in and they were assisting other customers," says John. "Shelly and Jennifer always went above and beyond the call of duty. One time Shelly gave up her lunch hour to help me with the virtual job fair. I will forever be grateful for the service and friendship that developed through Michigan Works."
Created on Wednesday, May 3, 2017