"Never Give Up" is Easier With Support from Michigan Works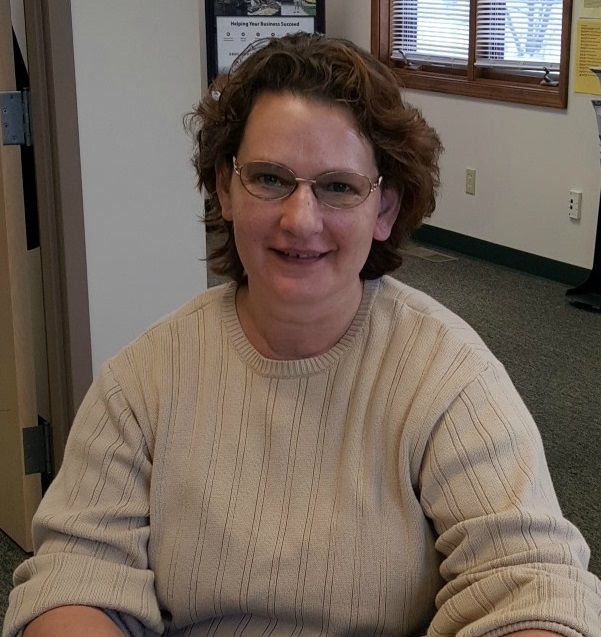 In 2016, Susan Dunn relocated to Grayling, MI from Texas. Once here, she had no means of transportation, and was staying with a friend while looking for a job and housing. Susan also hadn't worked in quite a while, so getting back into the workforce was a bit scary, and she was concerned she lacked the skills employers were looking for. Without a home computer, Susan had no way to brush up on her computer skills or job search online, so in July 2016, she began coming to Michigan Works and working with Talent Specialist, Crystal Filley.
Crystal helped Susan update her resume, regain computer skills, perform online job searches, and prepare for potential interviews. Though Susan received many rejections from employers, Crystal continued to coach Susan and encouraged her to keep applying for jobs. In addition, while receiving employment assistance at Michigan Works, Susan was referred to NEMCSA, which helped her find housing in Grayling.
While continuing to work with Susan, Crystal learned that she had lost her job in 2010 and had enrolled at Kirtland Community College through the No Worker Left Behind program. There, she earned a certificate in Medical Coding & Billing. With Crystal's suggestion, Susan applied for a medical receptionist position at a local doctor's office within walking distance of her new home. During the interview with the doctor, Susan spoke of her training in medical coding and billing and how she never found a job using those skills. The doctor was thrilled to learn of Susan's skill set and hired her to put those skills to work as their new billing and coding person!
After several months of trying to find employment, and several rejections, she landed a job at a doctor's office using skills she was trained for at Kirtland Community College. Skills she hadn't even considered putting to use! The doctor is affiliated with Munson Hospital, which could possibly lead to future career growth and advancement for Susan.
Susan said that coming to the Michigan Works office gave her a reason to get up and get out of the house to look for a job.
"The staff a Michigan Works really cares and wants people like me to succeed," said Susan. "If it hadn't been for Crystal's continued enthusiasm and support I may have given up. She kept me on track and helped me gain confidence using a computer."
In a follow up email, Susan reports things are going well, "I never expected to be a "success" story for Michigan Works. It just goes to show what can happen if you keep trying. I'm happy to have a job that lets me use my certification earned at Kirtland College. I still have a lot to learn and I am determined to make this a long term employment situation. Tell Crystal thanks a million for all of her help and encouragement."
Created on Thursday, January 12, 2017