Procurement Technical Assistance Center
Valued Northeast Michigan PTAC Client,
Given the rapidly changing circumstances related to COVID19, the Northeast Michigan PTAC staff will be implementing some risk reduction procedures that will affect the way that we interact with our clients.
We are taking this situation very seriously by working remotely and believe physical distancing at this critical point will help flatten the curve of this outbreak.
The Northeast Michigan PTAC will continue to provide one-on-one counseling using phone or meeting software such as Go-To-Meeting.
You will still be able to contact us via email (see below) or phone (989)733-8540, your call will be forwarded to PTAC staff.
Please review the COVID-19 Playbook which covers information on doing business with the federal and state government at this time.
As always, stay up to date with all happenings regarding the current issues, as well as all contracting and PTAC happenings going forward by following us on Twitter and Facebook.
For more information about COVID19 go to: https://www.cdc.gov/coronavirus/2019-nCoV/index.html
We will continue to update PTAC clients as additional actions are needed. We appreciate your understanding and flexibility as we navigate together through these challenging times.
Be safe, stay healthy,
Northeast Michigan PTAC Staff,
Tammy Moore - mooret@nemcworks.org
Cassie Rogers - rogersc@nemcworks.org
Sue Fitzpatrick - fitzpatricks@nemcworks.org


OPPORTUNITY IS WAITING FOR YOU
Did you know the federal government purchases more than $500 billion of goods and services a year and the State of Michigan has a diverse portfolio valued at more than $11.6 billion?
Do you want to sell to the government?
Do you need help understanding the requirements of government contracting?
Do you need help making contacts?
PTAC provides NO FEE assistance to businesses which are interested in doing business with state and federal government agencies.
---
Your Government Contracting Experts
The Northeast Michigan Consortium Procurement Technical Assistance Center (PTAC) is a not-for-profit organization that teaches businesses in northeast Michigan how to sell their products and services to federal, state, and local government agencies.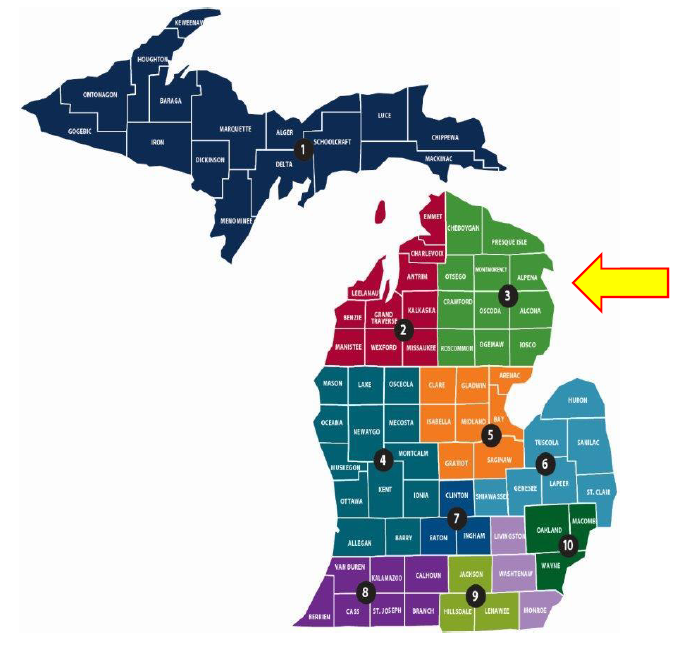 Our mission is to enhance national defense and economic development in the State of Michigan by assisting Michigan businesses in obtaining and performing on federal, state, and local government contracts. Through seminars, events, training, and one-on-one consultations, we work to help local businesses succeed in the government marketplace.
Our services are free of charge to businesses located within the 11 counties throughout Michigan's Northeast Lower Peninsula: Alcona, Alpena, Cheboygan, Crawford, Iosco, Montmorency, Ogemaw, Oscoda, Otsego, Presque Isle and Roscommon counties.
---
This procurement technical assistance center is funded in part through a cooperative agreement with the Defense Logistics Agency. The Northeast Michigan PTAC is funded in part by the Michigan Economic Development Corporation (MEDC).

---
2020 Region 3 PTAC IMPACT

---
Attention Small Businesses: Did you know the Defense Logistics Agency (DLA) has about 12,000 suppliers and 80% of them are small businesses?! Learn about opportunities to participate as a DLA supplier in this video!