COVID-19 Resources
State of Michigan COVID-19 Resources Webpage
Please review the PTAC's of Michigan COVID-19 Playbook which covers information on doing business with the federal and state government at this time.
---
4/21/2020
Unemployment Insurance videos to help file a claim
The Unemployment Insurance Agency has a series of how-to videos to help navigate the unemployment system and assist you with filing a claim.
View the full playlist of videos for employees here.
Keep in mind, it's best to apply online during non-peak hours, between 8 p.m. to 8 a.m. The 24-hour website operates faster when fewer people are on the site. Visit Michigan.gov/UIA to get started.
---
4/15/2020
Are you an EMPLOYER or EMPLOYEE impacted by COVID-19?
Employers
Employers who have closed and/or laid off or placed workers on leave are required to announce such cessation of business in accordance with the Worker Adjustment and Retraining Notification (WARN) Act.
The requirements can be found here in the Instructions for Employers - COVID-19 Video:
Workers
State and local resources for workers who have been laid off or placed on a temporary leave from employment due to COVID-19 are highlighted in the Dislocated Worker Resources Video:
---
4/3/2020
Michigan Businesses May Now Apply for Federal Paycheck Protection Program
Small businesses across Michigan are now able to apply for $349 billion in Paycheck Protection Program forgivable loans through the U.S. Small Business Administration. These loans are designed to help small businesses to keep their workers on the payroll. Loans may be forgiven in all or in part if employees are kept on the payroll for eight weeks and the funds are used toward payroll, rent, mortgage interest or utilities. The program will award loans on a first come, first served basis with funding caps in place, and Michigan businesses are encouraged to apply early.
The application period for small businesses opens today (April 3), and for independent contractors and sole proprietors on April 10. VIEW DETAILS AND APPLY NOW
---
Pure Michigan Business Connect Offering up to $1 Million in Grants to Manufacturers Looking to Retool and Produce Critical Service Supplies
Michigan's small business manufacturers looking to produce critical health and human service supplies can now apply for up to $150,000 in grants through the Michigan Economic Development Corporation's PMBC COVID-19 Emergency Access & Retooling Program. The newly launched grant program will provide up to $1 million in grants to Michigan's manufacturers that can quickly and effectively retool and produce critical supplies in response to the COVID-19 outbreak. LEARN MORE AND APPLY NOW
---
Virtual Matchmaking Platform Expands to Support COVID-19 Response Efforts
The MEDC's Pure Michigan Business Connect program has expanded its free, online procurement platform to now include donations from suppliers capable of filling health and human service needs across a broad range of product and service categories.
The platform is also offering a place for companies with manufacturing capabilities for personal protection equipment to indicate which items (i.e. masks, gowns, ventilators) they are able to produce, along with quantity and timing detail. LEARN MORE
---
More than 2,000 Michigan Companies Hiring Now
Michigan companies have an immediate need to fill thousands of critical vacancies to support work during the COVID-19 outbreak, including those in logistics, healthcare, manufacturing and agribusiness industries. The State of Michigan's employment search engine - Pure Michigan Talent Connect - provides job seekers and employers with an online portal to post, search and connect to these job openings.
Thousands of new jobs are being posted each day. Employers looking to hire during the COVID-19 outbreak should use the COVID-19 On-Demand Hiring Intake Form. LEARN MORE
---
Additional Resources Available Online
3/18/20
State Provides Guidance to Employers Contemplating Potential Layoffs
The Department of Labor and Economic Opportunity today provided guidance to Michigan employers on how to avoid potential layoffs related to COVID-19.
"We know that many families and businesses are and will experience economic pain as a result of the COVID-19 pandemic," said LEO Director Jeff Donofrio. "Through Governor Whitmer's executive action and existing state programs, there are resources for employers affected by COVID-19. We are also strongly urging job providers facing work shortages to place their employees on temporary leave as opposed to termination, so that they may remain eligible for potential federal assistance."
Work Share If employers are financially distressed but hope to continue operations by cutting back hours, they are encouraged to use the Unemployment Insurance Agency's Work Share program that allows employers to maintain employment levels and business operations during declines in regular business activity rather than laying off workers. More information about the program can be found at www.michigan.gov/workshare.
Temporary Leave vs. Termination Due to the uncertainty regarding potential congressional action regarding whether and how furloughed workers will be able to access federal paid sick, family and medical leave resources, employers are strongly urged to place employees on temporary leave and advise the worker that they expect to have work available within 120-days as opposed to termination. There is no additional cost to employers, employees remain eligible for UI benefits through the state, and employees may remain eligible for potential federal assistance.
Steps for employers placing employees on temporary unpaid leave:
Do not terminate the employee– specify a temporary / indefinite leave with return to work expected that is within 120 days.
Do not create a contractual obligation to bring the employee back to work – Let the employee know that the situation is fluid and subject to change.
Provide the employee with a formal Unemployment Compensation Notice. Employers will need to provide their Employer Account Number and Federal Identification Number.
Communicate to the employee about their rights. Under Governor Whitmer's recent Executive Order, workers who are placed on leave, or are unable to work because they are sick, quarantined, immunocompromised, or have an unanticipated family care responsibility, are eligible for unemployment insurance benefits.
Ensure employers are provided information on how to obtain unemployment insurance benefits. A fact sheet can be found here.
Get each employee's up-to-date contact information.
Let employees know if you will be putting updated information on the entity's website or intranet, if applicable.
Appoint a single, or limited number of individuals who will field questions, and communicate that information to employees.
Keep a tally of all questions and answers. Periodically share with employees.
The state is monitoring issues related to continued medical insurance coverage and will update accordingly.
Elimination of Certain Unemployment Costs to Employers
Under the governor's order, an employer or employing unit must not be charged for unemployment benefits if their employees become unemployed because of an executive order requiring them to close or limit operations.
Other Resources
The Michigan Economic Development Corporation's call center stands ready to support businesses looking for assistance through other available state programs. For more information, visit the MEDC's website: www.michiganbusiness.org or call 888.522.0103. The Michigan Small Business Development Center can also provide resources for small businesses impacted by COVID-19. Visit their website https://sbdcmichigan.org/small-business-covid19/ for additional information.
Governor Whitmer is also seeking additional solutions for small businesses impacted by COVID-19. Earlier this month, Congress passed legislation that makes $1 billion available to the U.S. Small Business Administration (SBA) to provide low-interest loans to small businesses, small agricultural cooperatives, and nonprofits that have suffered substantial economic losses as a result of the COVID-19 pandemic.
The governor has informed SBA that she is seeking an Economic Injury Disaster Loan Declaration for the state and has initiated the process to receive the declaration from SBA. Once granted, small businesses in qualifying areas will be able to access low-interest loans through the SBA. In the interim, we are encouraging small businesses that could benefit from SBA loans to start collecting the information they'll need to complete and submit their application. Examples of information needed can be found here. For additional information or to obtain help preparing the loan application in advance of the declaration, please contact the Michigan SBA offices in Detroit or Grand Rapids.
Information around this outbreak is changing rapidly. The latest information is available at Michigan.gov/Coronavirus and CDC.gov/Coronavirus.
---
4/3/20 - At Michigan Works! Northeast Consortium, the safety of our customers and staff remains our top priority. We are monitoring the COVID-19 situation closely and have been implementing additional disinfectant procedures at all of our offices.
At this time all of our Service Centers are CLOSED to the public. We are however, taking questions via phone during regular business hours.
As of 3/18/20, for UIA clients Registering to Work (a process usually done in-person at a Michigan Works! office), the in-person work registration is suspended for all claimants.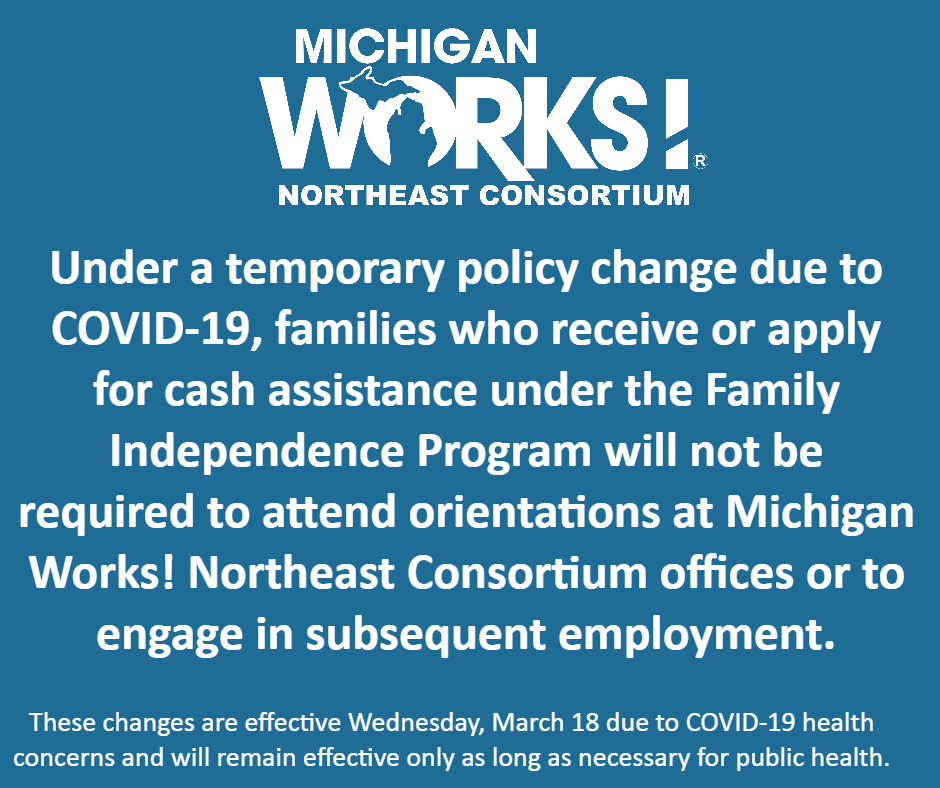 Alpena 989-356-3339
Alcona 989-736-6082
Cheboygan 231-627-4303
Gaylord 989-732-3886
Grayling 989-348-8709
Mio 989-826-6107
Onaway 989-733-8548
---
UIA, Michigan Works! Urge Residents to Use Online Resources
To mitigate the COVID-19 outbreak, the Unemployment Insurance Agency and Michigan Works! Agencies are strongly urging workers to avoid visiting their statewide offices and utilize user-friendly online resources for unemployment assistance. Eligible employees should apply for unemployment benefits at Michigan.gov/UIA or by calling 1-866-500-0017. A factsheet on how to apply for benefits can also be found here. Michigan Works! resources can be found at MichiganWorks.org or by calling 1-800-285-WORKS.
UIA and Michigan Works! statewide offices will remain open, but the agencies will be limiting the amount of people within the offices at one time.
"In an effort to protect the health and safety of our residents and promote social distancing, Michigan workers needing assistance from the UIA are strongly urged to avoid visiting our offices. The fastest and best method is online at Michigan.gov/UIA. You can also connect with our agency by calling 1-866-500-0017," said UIA Director Steve Gray.
UIA online resources include:
File a claim for unemployment benefits
Chat with a customer service agent (M-F, 8am to 5pm)
Send a message to a customer service agent (weekdays after 5pm and before 8am and weekends)
Manage your account 24 hours a day, 7 days a week
The Michigan Works! Agencies are also encouraging people to avoid public spaces and will be limiting in-person visits. Impacted workers were formerly required to appear in-person at a Michigan Works! service center but that requirement has been waived because of the public health emergency. The agencies are encouraging all individuals to connect with their local Michigan Works! office by call 1-800-285-WORKS or visiting MichiganWorks.org to set up an appointment. Virtual and phone appointments will be prioritized.
Yesterday, Governor Whitmer signed Executive Order 2020-10 to temporarily expand eligibility for unemployment benefits.
Under the governor's order, unemployment benefits would be extended to:
Workers who have an unanticipated family care responsibility, including those who have childcare responsibilities due to school closures, or those who are forced to care for loved ones who become ill.
Workers who are sick, quarantined, or immunocompromised and who do not have access to paid family and medical leave or are laid off.
First responders in the public health community who become ill or are quarantined due to exposure to COVID-19.
Access to benefits for unemployed workers will also be extended:
Benefits will be increased from 20 to 26 weeks.
The application eligibility period will be increased from 14 to 28 days
The normal in-person registration and work search requirements are suspended.
Under the order, an employer or employing unit must not be charged for unemployment benefits if their employees become unemployed because of an executive order requiring them to close or limit operations.
The order also expands the State's Work Share program. Employers are encouraged to implement the program that permits employers to maintain operational productivity during declines in regular business activity instead of laying off workers. More information about Work Share can be found here.
Additional unemployment resources for employees can be found here and for employers here.
Updates will be posted to Michigan.gov/Coronavirus and CDC.gov/Coronavirus.
---
Due to COVID-19, MDHHS closes lobbies except for appointments; suspends rules requiring office visits
3/18/20 - LANSING, MICH. Gov. Gretchen Whitmer and the Michigan Department of Health and Human Services (MDHHS) today announced that MDHHS will close its lobbies to visits from the public, except for appointments, and will stop requiring residents to visit MDHHS offices in order to receive state assistance benefits during the COVID-19 outbreak.
MDHHS offices continue to serve the public and will conduct telephone interviews with all public assistance clients and applicants. As always, individuals who are applying for or receiving benefits can use www.michigan.gov/MIBridges to submit paperwork, review benefit information, report changes, apply for benefits and complete the process for redetermining eligibility for assistance. Individuals unable to use MI Bridges can call MDHHS offices to get assistance. Individual workers will schedule in-person meetings only as needed.
In addition, under a temporary policy change, families who receive or apply for cash assistance under the Family Independence Program will not be required to attend orientations at Michigan Works! offices or to engage in subsequent employment activities.
These changes are effective Wednesday, March 18, and will remain effective only as long as necessary for public health.
"Michigan is doing all it can to mitigate the spread of coronavirus," Whitmer said. "We are asking residents to make smart choices by not going into group settings unless necessary. Closing MDHHS lobbies to unnecessary visits and eliminating requirements to visit offices are necessary steps in this emergency."
About 15,000 low-income Michigan families receive monthly cash assistance through the Family Independence Program. About 7,500 beneficiaries must engage in job search or readiness activities, which require individuals to congregate in groups for orientations and then to make additional public contacts for purposes of training and employment. A typical family receives about $350 per month through the Family Independence Program.
"We're committed to protecting public health and supporting families through this emergency," said MDHHS Director Robert Gordon. "Closing lobbies except for appointments and eliminating requirements to visit offices accomplish these objectives. We will reduce infection rates and continue to deliver financial support to families who need it."
Michigan had identified 65 COVID-19 cases as of today.
Information around the COVID-19 outbreak is changing rapidly. The latest information is available by visiting Michigan's Coronavirus website or via the CDC's website.
Help Prevent the Spread of Coronavirus Recreational Facilities!
With most recreational opportunities on hold to prevent the spread of Coronavirus 2019 (COVID-19), it is more important than ever that residents take simple steps to stay safe while enjoying the region's parks and trails. With spring weather arriving and people spending more time at home, the region's parks and trails have been more crowded than usual lately. We hope you will share these messages with people in your community to help keep everyone safe while enjoying the outdoors:
Maintain the recommended six feet of space from people outside your household for social distancing.
Avoid shared surfaces like playground equipment and close-contact spaces like athletic courts.
Expect limited access to public rest rooms, water fountains, and other facilities or programs.
Be aware of all park or trail rules, like keeping pets on a leash and picking up after them.
Follow Leave No Trace principles when possible, as park maintenance may be more limited than usual.
If you're not feeling well, it's best to stay inside and avoid public spaces.