Coastal Tourism Publications & Resources
Photos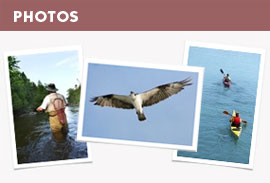 Enhance your business's promotional materials with photos and images of Northeast Michigan's coastal landscape accented by fabulous natural, historical, and cultural resources and attractions. Photos courtesy of Michigan Sea Grant.
See: Northeast Michigan Area Photos
Do you have a publication enhancing coastal recource interpretation or tourism development opportunites in Northeast Michigan? To have it reviewed and included on this website, Contact us.
Professional Organizations
Local Organizations
In addition to the list above, check with your local Chamber of Commerce or Convention and Visitor's Bureau for other resources. Local Boards, Advisory Committees, or Friends Groups affiliated with local resource management agencies and areas may also be helpful.
Publications
Maps & Wayfinding
Interpretive Publications
Education & Outreach