Career Expos
Career Expos offer area high schools a great opportunity to introduce their students to local employers and teach students what employers are looking for and expecting in an employee. Career Expos are held on-site at local schools, and Michigan Works! Northeast Consortium works directly with the school to help facilitate the event and to help with employer participation.
Every expo can be set up differently and highlights may include:
Introduce students to employers in their area and encourage networking
Teach students about career pathways for career opportunities with businesses in their area
Show students how to create a resume
Encourage students to participate in mock interviews
Educate students on Technical Education programs, STEM programs, and advanced education opportunities available in their area
---
FAIRVIEW
Feb 1, 2018: Twenty Fairview high school seniors participated in a Mock Interview session with seven area employers. Employers represented included: Metalfab Manufacturing, Michigan Rehabilitation Services, Michigan Works!, Oscoda County Road Commission, Oscoda Sheriff's Department, The Warehouse of Mio, and Wellspring Lutheran.

The teacher, Bobbi Ross worked with the students for several weeks before the mock interviews preparing them by having each student complete a resume and reviewing interview questions. Michigan Works! staff came in prior to the session and offered a presentation to students on "Reflecting a Positive Image", which gave examples of how to dress and carry oneself to make a great impression.

At the Mock Interviews, the students all looked very nice and presented themselves well. Employers evaluated each student following the interviews and gave constructive criticism and praise for areas they did very well in. The employers felt most students did a very good job, although stated more work is needed with students doing background research on the companies. Employers also said they would like to see these interviews done with all high school grades, not just limited to seniors.
---
FAIRVIEW SCHOOLS - SENIOR SEMINAR PRESENTATION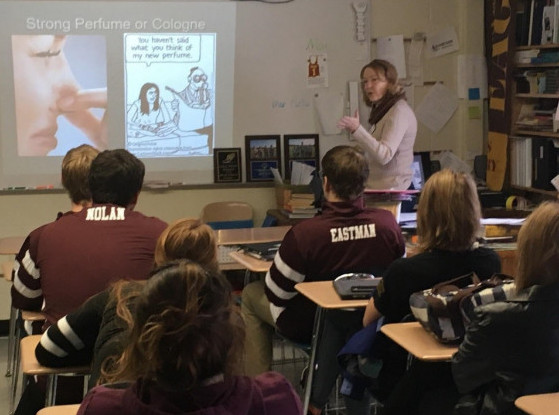 December 11, 2017: Michigan Works!, in partnership with Michigan Rehabilitation Services, presented "Reflecting a Position Image" to the Fairview Schools Senior Seminar students. Twenty two students took part in the discussion centered around how to prepare for a job interview, and how to present themselves professionally.

This presentation was in preparation for student Mock Interviews that will take place the February and will include Human Resource Managers, and Hiring Managers from area employers. The students will be working on their resumes and reference lists to present during the mock interviews. They are also busy researching the employers so they have questions prepared to ask during their interviews. Next week, they will learn about writing thank you notes to their interviewers following their mock interviews.
---
MIO AUSABLE SCHOOLS - STUDENT PRESENTATION & MOCK INTERVIEWS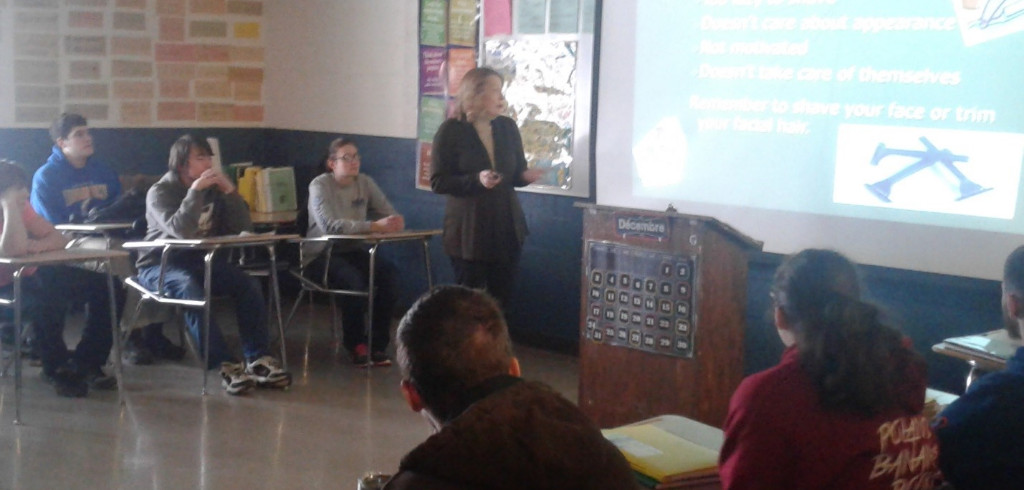 December 8, 2017: Mio AuSable High School held Mock Interviews with the senior students and local employers. All 38 students came dressed up, shirts and ties for the boys, dresses and pant outfits for the girls. They came prepared with resumes, reference lists, and some even had reference letters. They really took this exercise seriously and it showed.

What was most impressive was how prepared the students were with how to conduct themselves during the interviews. They were very well spoken, confident and poised, and they asked questions about the industries they were interested in going into and skills/schooling they were pursuing after graduating. They even researched and learned about the company/employer before their interview. At the wrap up meeting with some of the employers, they all agreed with "being blown away, and impressed" with how the students handled themselves during the interviews, and how mature they appeared. With help from Michigan Works! there was a variety employers who participated from the following businesses: First Federal Credit Union, Garland Resort, Metalfab Manufacturing, Michigan Rehabilitation Services, Oscoda County Library, Oscoda County Road Commission, Oscoda Sheriff's Department, The Warehouse of Mio, and Wellspring Lutheran.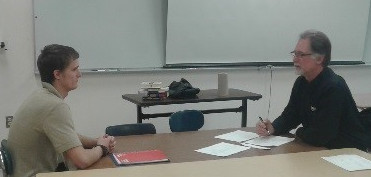 December 7, 2017: Grayling Business Services Professional, Alayne Hansen presented "Reflecting a Positive Image" to two high school classes at Mio AuSable Schools. The presentation was delivered in preparation for student mock interviews to be held the next day with 12 area employers. The students did an excellent job interacting during the presentation with questions and concerns regarding interviewing and follow up. They were very interested in knowing what common questions they may be asked during an interview, and how to answer them. Both classes were filled with discussion from the students during and after the presentation. They were a very impressive group of young adults eager to learn as much as possible to help them ace an interview. They were a pleasure to speak to, and they very much enjoyed the presentation.

---
ONAWAY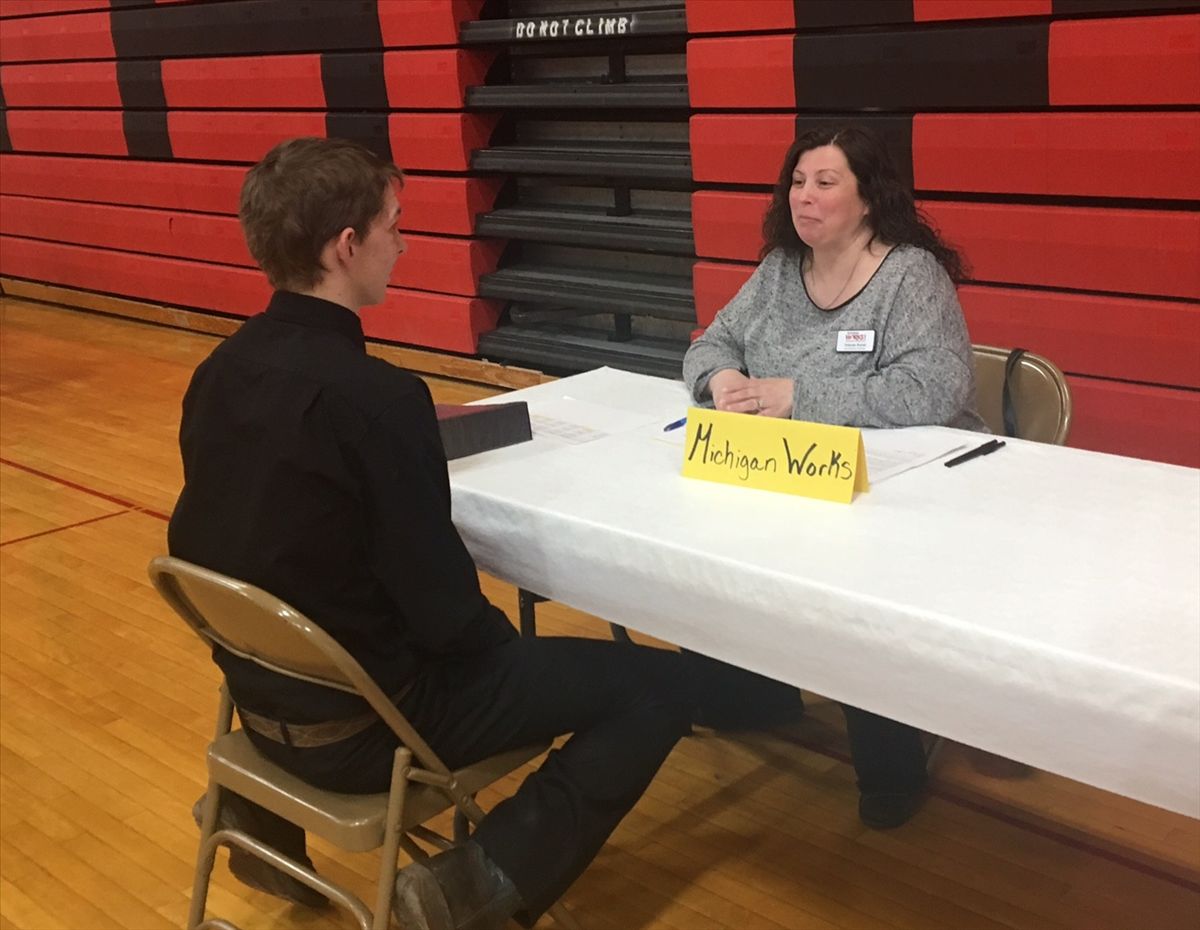 April 20, 2017: All 43 Onaway High School Class of 2017 students took part in a mock interview session with 23 local businesses. Business representatives conducted the mock interviews with the students, reviewing their portfolios, cover letters, resumes and applications, and providing constructive feedback to the students.
"I was very impressed with how well dressed and prepared the students were for the mock interviews," said interviewer Yolanda Romel of Michigan Works! Northeast Consortium. All the students that I interviewed seemed to have a laid out plan for their future. There is going to be a lot of upcoming talent entering the workforce and colleges."
---
GRAYLING
March 17, 2017: Grayling High School held a Career Expo for approximately 500 students. In attendance were, 26 employers, 4 colleges, 3 building trades, and 1 staffing agency, as well as Michigan Works! staff, WIOA (Workforce Innovation and Opportunity Act) staff and MEDC (Michigan Economic Development Corporation) staff.
At the event, employers broke down into separate rooms and held individual presentations for the students, which included:
Information on what jobs are available at the businesses they were representing
Skills and education required for different jobs within the company
How to make a good impression at an interview and follow up.
Individual career opportunities and education goals to achieve the career.
The importance of a good credit score, establishing credit, and social media etiquette.
Opportunities in the building trades.
College career paths.
Michigan Works! and MEDC staff put on interview skits to illustrate what to do/not do during an interview. Three mock interviews were acted out; two being poor examples, and one being excellent. The skits were very well received by students and many gave great feedback on how the information being presented as a visual stood out way better than just having someone speaking directly to them about it. Students picked up on how body language, clothing, posture, preparedness, arrival time, and other factors affect the interview.
---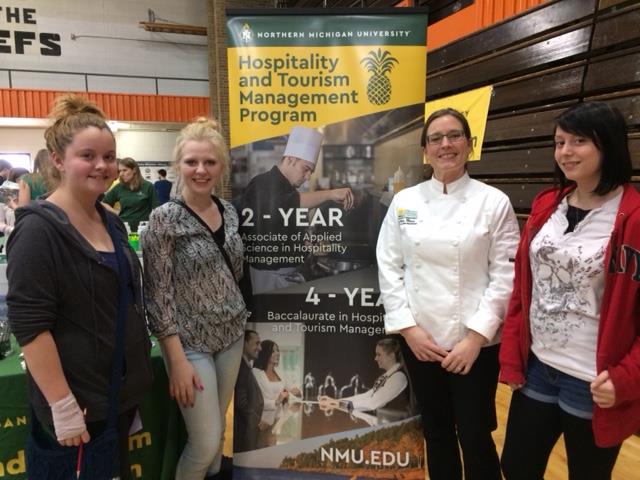 CHEBOYGAN
February 23, 2017: Michigan Works! helped Cheboygan Area High School hold a Career and Technical Education Expo in the high school gym. Fifty vendors from local businesses and industry, as well as colleges and universities talked to over 700 8th-12th grade students about their career pathways. Employers explained to students about what career opportunities were available, while colleges and universities covered the education required to be qualified for these opportunities. It's hoped that laying the framework out for students early in their education will help them be better prepared once they graduate and help keep the local talent pipeline flowing.
---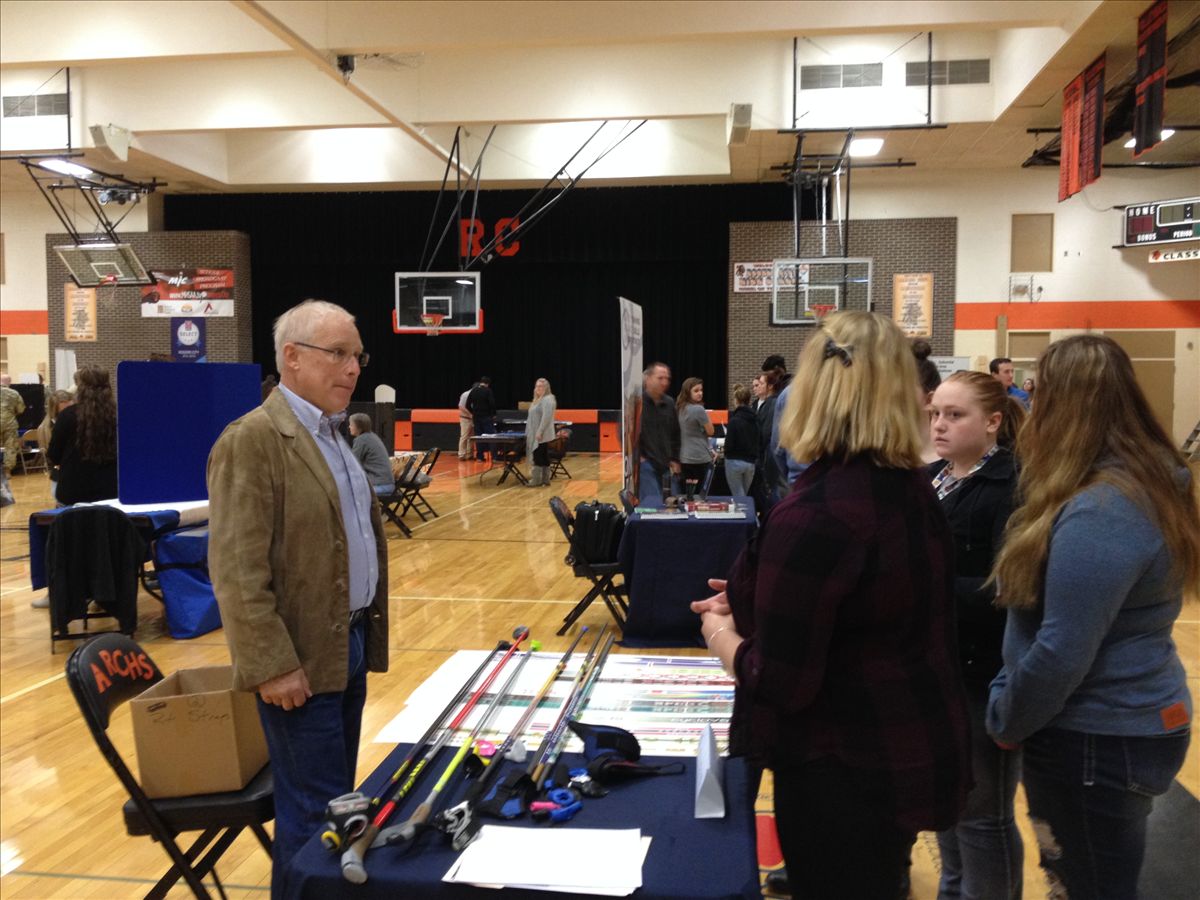 ROGERS CITY
November 4, 2016: Over 325 high school students from Rogers City, Onaway, and Posen attended a Career Expo in the Rogers City High School gymnasium. The event was coordinated by Michigan Works! Northeast Consortium and offered the 9th-12th grade students an opportunity to speak one-on-one with representatives from 24 local businesses. Advanced manufacturers, trade schools and colleges, health care professionals, skilled trades, local and state governments, and even the funeral home were represented at the event.
During the two-hour event, students were able to talk directly with area employers to learn what jobs are available locally, what career paths and education are necessary to secure these jobs, as well as what skills and day-to-day activities they would encounter working in these fields. Employer feedback was very positive, with many hoping to do similar events in the future.
"The students were showing very good interest, and even the younger 9th & 10th Graders showed their enthusiasm and were engaged in what the businesses had to offer them," reported Karen Schulte, P.H. Hoeft State Park.
"This was a magnificent occasion for students to further their knowledge of career opportunities," said Rogers City High School Counselor, Marilyn Dimick. "I appreciate the sharing of expectations of future employees. The variety of opportunity only enhances and builds on the career education knowledge students learn in classroom presentations. This informational program was valued by both students and the Rogers City High School staff." Read her Letter to the Governor
---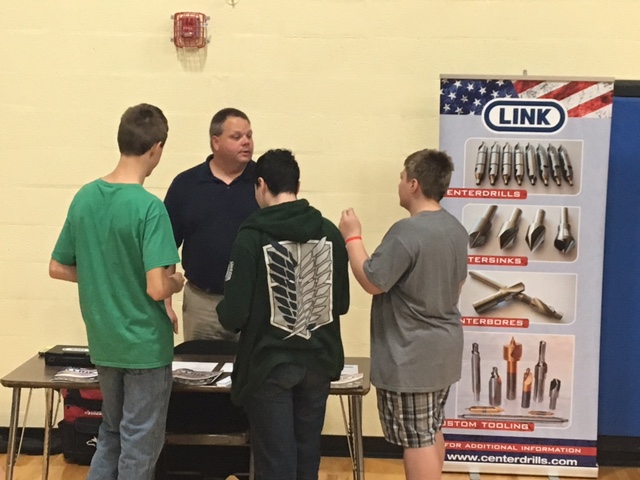 INLAND LAKES
October 14, 2016: The entire half-day of school was dedicated to Career Day and over 400 Inland Lakes students grades 6-12 attended the Career Expo in the gym. Students were able to meet with area employers and continuing education partners to learn about career paths and available careers in the area.
The Career Expo was coordinated by Michigan Works Business Services Professional, Dave Droste. Approximately 12 local businesses were represented, and North Central Michigan College parked the Fab Lab in front of the school for all students to visit and learn about CNC career opportunities.
Dean of Students, Elizabeth Fairbanks, thanked participating partners, stating, "We look forward to offering this opportunity to our students again next Fall. We greatly appreciate our community and the support you provide to our school."
Students feedback was also positive, with comments such as, "I learned about so many businesses in our area that I didn't know before," and "This career day made me start to think about my future."
---
MIO AUSABLE/FAIRVIEW
April 28, 2016: At this well-executed fair, 28 employers participated and 45 students attended. The purpose of the fair was to give students the opportunity to interact with employers as if they were interviewing for a position, or to ask questions pertaining to the business or industry. Michigan Works! handed out information about MAT2 and a folder containing age-appropriate information regarding resumes, cover letters and interview tips, with samples included. Students came prepared with questions and talked with each employer onsite. Feedback from employers was very positive and many would like to be included in future career fairs.
Prior to the Career Fair, on April 6th, Michigan Works! and Michigan Rehabilitation Services hosted a Career Fair Prep Class, which was attended by eight students and four parents. The class covered what employers expect, job interview tips, what to do/not to do, and how to create a resume. Students left the prep class with five copies of their resume to take to the April 28th fair.
---
GRAYLING
April 28, 2016: Grayling Business Services Professional, Alayne Hansen, presented to the Viking Vision class on "Reflecting a Positive Image", as well as other Michigan Works! services and training opportunities. The students were engaged, asking very good questions and participating in a discussion afterwards. Jessie Trumble spoke about Career Jump Start, MAT2, and making good choices. Feedback was very positive.
---
ONAWAY
April 27, 2016: Talent Specialist Yolanda Harrison and Marketing Coordinator Alicia Wallace joined 14 other local employers to hold mock interviews with Onaway High School Seniors. Michigan Works! staff interviewed 12 students, as well as critiqued their resumes, cover letters and applications, to help them be better prepared for real-life applications.
---
HILLMAN
April 12, 2016: Students from 7th-12th grade had the opportunity to explore available opportunities (including summer jobs) with 15 local employers. Participation was a little low due to students having to M-step test that day, but many were able to attend in 20-30 minute intervals between testing.
The Michigan Works! booth educated students on MAT2 and other available services. Students also received handouts on resumes, cover letters, references, and tuition assistance.
---
GRAYLING
March 18, 2016: Participants included 37 employers, Michigan Works!, and WIOA. Employersheld their own individual presentations in separate rooms, which included:
What employers expect from employees.
How to properly complete an application and present a reference list.
How to write a resume and cover letter. (hands on experience using the computer)
How to make a good impression at an interview and follow-up.
Individual career opportunities and education goals to achieve the career.
Michigan Works! displayed the services that they offer and provided information on MAT2. Several employers had questions about MW services, as well. The feedback received has been very positive and those employers plan on doing the fair again next year.

---
WOLVERINE
March 16, 2016: The Wolverine Career Expo was a hit for the 10th-12th grade students. Ten diverse businesses attended with either job opportunities available or were there to share best practices. The Dean of Students was so pleased with how the event was going that she brought in the 8th & 9th grades as well.
As the students walked around the Expo, Michigan Works! provided guidance and encouraged them to engage with the businesses. Students asked great questions and even inquired about touring some of the businesses on-site.
Michigan Works! handed out packets that included a sample cover letter, thank you letter, resume (building off soft-skills and school activities), resume check list, reference sheet template, blank application for practice, and a list of high-demand occupations in the area. Available Michigan Works! tuition reimbursement and classroom training funding was explained, as well as general information on how to fill out applications, create a resume, cover letter, reference sheet, and thank you notes. Students were invited to stop by Michigan Works! anytime for assistance with these services and more. The students were very respectful, engaged, and had lots of questions!
---
CHEBOYGAN
Feb 25, 2016: Michigan Works! helped host this event, which was attended by the 8th-12th grade classes. Students met with employers and educators to explore local career options and learn about what educational paths would be necessary to pursue those careers.
Eleven businesses, the military, seven area colleges, and 11 CTE programs had booths at the Expo. Michigan Works! also was represented,highlighting what services we offer and educating students about the free services that they can utilize to learn how to search for jobs, learn about career pathways, or even learn how to construct a resume.
Student feedback was positive. They enjoyed researching career pathways and engaging with colleges and employers.

---
FAIRVIEW
Jan 8, 2016: This event was put on by Michigan Rehabilitation Services with assistance from Michigan Works! In the first hour of the event, the 9th through 11th graders did career exploration, while 11 area employers conducted mock interviews with the high school seniors. Michigan Works! assisted with employer networking, directing seniors to mock interview areas, and helped with follow-up questions and discussion.
Seniors experiencing mock interviews with employers were very nervous, but came away learning what types of questions would be asked and the importance of having their own questions prepared for employers.
Event organizer, Susan Root with Michigan Rehabilitation Services said, "I think these individual meetings really touch the kids. I think the folks that came here truly care about their future and were willing to provide not only education, but advocacy for them - to teach them and prepare them for a life after high school."
After the event, employers held a round table and gave the students advice on social media etiquette and appropriate/inappropriate postings, how to present themselves professionally, work ethics and more. It was an exceptional experience for both the seniors and participating employers.