A Story of Personal Success, Thanks to Help from Michigan Works!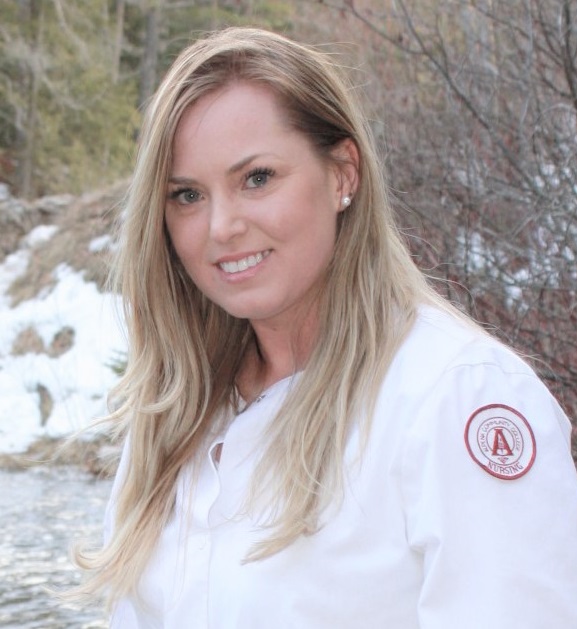 Jaimie Achtabowski, a Community Health Worker at Thunder Bay Community Health Services, stopped by the Onaway Michigan Works! office to see what services they could offer her patients. As she was being told about the education tuition assistance program, she thought to herself, "not only is this good for my patients, but this could be a great service for me." Jaimie had just applied to the Alpena Community Nursing Program and knew that she'd be going back to school very soon. She was nervous about the time and financial commitment that school would demand and she couldn't help but wonder if this assistance program could help her as well. This is Jaimie's story.
"On the first day of Nursing School orientation we are recommended not to work during school, as the work load from the nursing classes and clinicals are high demanding, therefore that left my husband to support us for two years while I pursued my career of becoming a nurse. Of course, we were nervous, scared, and stressed as to how we would make it during this time when it became tough. Michigan Works! helped me during this transition with tuition assistance, car repairs, gas, and even provided me with a new laptop computer (which happened to be great timing, because mine crashed the day before they told me about it). MW! helped me with tuition costs for the last year and a half of my schooling. During my last semester of RN year, my car started driving different and making some odd noises. I took it into the shop and was told my wheel bearings needed to be replaced. After speaking with my Michigan Works! Career Advisor, Niki Chamberlain, she told me that MW! could help cover the cost of these repairs. Driving from Rogers City to Alpena up to 5 times a week was tough on my car and the gas it took to go back and forth added up quick, luckily for me, MW! assisted me with gas mileage to and from my classes and clinicals.
With the help from MW! I was able to put all my focus into my school work and not worry about how I was going to cover my car repairs, gas, and tuition. In doing this, my grades and performance excelled, and I made the Dean's list throughout my nursing years. During my LPN year I was awarded the Excellence in Clinical Practice Award and for my RN year I was awarded the Helen Malandrinos Nursing Award. This allowed me to participate and be an active member on the Student Nurses Association. I was able to lead the Community Chair position during the first half of my RN year, then during my graduation semester I headed the Pinning Chair position.
MW! helped me through my journey of becoming a Nurse. I always feared what would happen once I was accepted into the program and knew it was going to be a struggle financially for those 2 years of my life. With the help of the Michigan Works! tuition assistance program, the struggle was a lot less then it could have been. In life, we always are trying to better ourselves, but sometimes we hit barriers that we need to overcome, and for me MW! was helping lift me over those barriers, whenever I came upon one. I successfully became a Registered Nurse and accepted a position before I even graduated! Before becoming an RN I was making $14 now I am making double that!"
Created on Tuesday, July 17, 2018