Mackinaw City Job Fair a Success for Local Employers and Job Seekers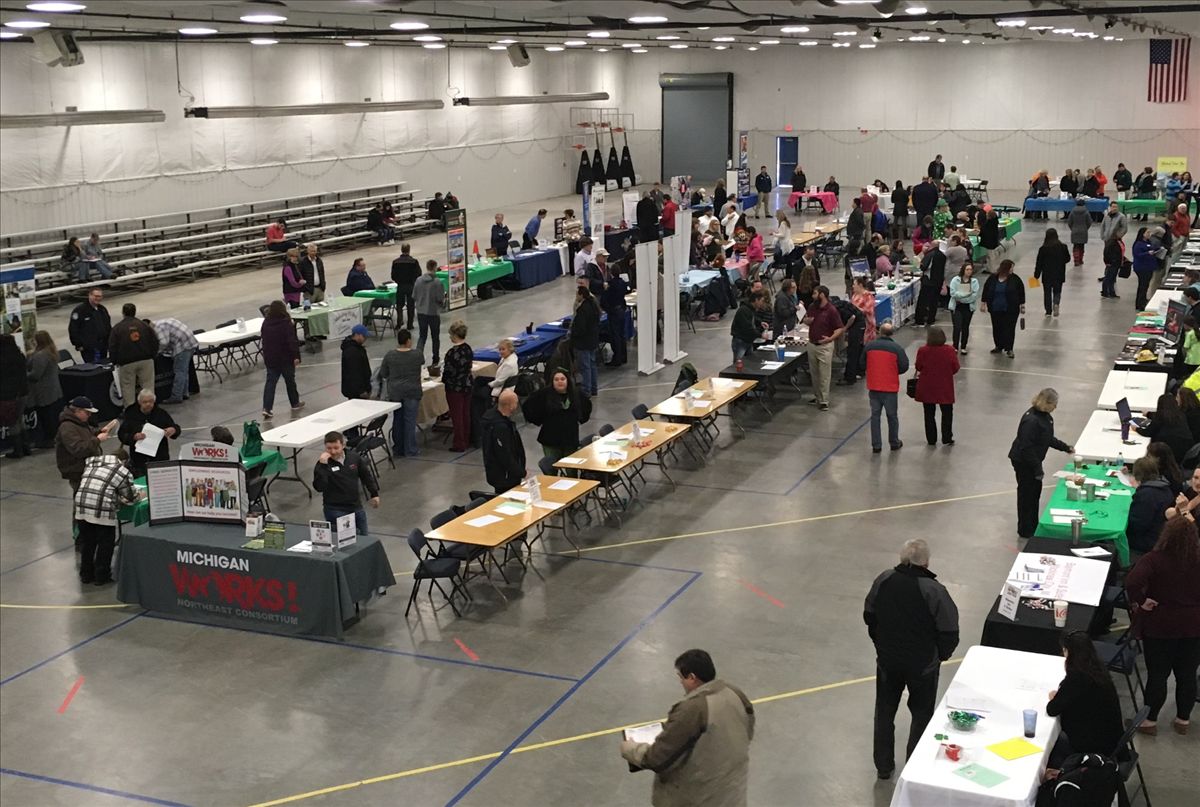 On Saturday, March 17th, over 140 job seekers delayed their St. Patrick's Day celebrations to first attend the Michigan Works! Straits Area Job Fair in Mackinaw City. With hopes of securing spring and summer employment, some attendees were even lucky enough to get hired on-the-spot!
Over 90 local businesses were represented hoping to fill over 1,000 jobs. Industries included tourism, retail, hospitality, food service, transportation, health care, general labor, and more, offering part-time, seasonal, and full-time opportunities.
The event, held at the Mackinaw City Recreational Center, was put on by Michigan Works! Northeast Consortium, in collaboration with The Village of Mackinaw City, and the Mackinaw City Chamber of Commerce.
Overall, job seeker feedback was very positive, with attendees stating the event offered a variety of employers and opportunities. Many candidates even got hired on-the-spot
"The fair helped a lot," said Bubba Tengan, who is seeking outdoor work. "I was able to apply to a lot of places without having to drive all over."
"It was very informative," agreed job seeker Alyssa Nance. "I got a lot of applications and networking in."
Employers reported that the event was well-organized and offered a great opportunity to network with fellow employers and meet many job seekers at once. Many commented on the good turnout and quality candidates. Many also reflected that the Mackinaw City location was a great spot for a northern Michigan job fair.
"There were lots of great candidates," said Wendy Falkner of Kilwins of Mackinaw City. "We filled most of our available positions!"
Liz Rice with Odawa Casino agreed, saying, "Great turnout. We got at least 10 good candidates."
"The fair had an excellent set-up and was well worth being part of," said Pamela McMillan with Simply the Best Boutique of Mackinaw City. "Very positive environment and very organized."
Over the next few weeks, employers will continue to call on job seekers they met with, with hopes that these interviews lead to even more placements.
The Mackinaw City Job Fair was the first of many job fairs to come to the region over the next few weeks. Michigan Works! Northeast Consortium will be hosting three more job fairs: in Gaylord on April 5, in Alpena on April 17, and in Grayling on April 18. Learn more about these fairs at www.NEMCWorks.org.
Created on Thursday, March 22, 2018