Home / News / AuSable River Outfitters Takes Advantage of Multiple Training Programs Offered by Michigan Works!
AuSable River Outfitters Takes Advantage of Multiple Training Programs Offered by Michigan Works!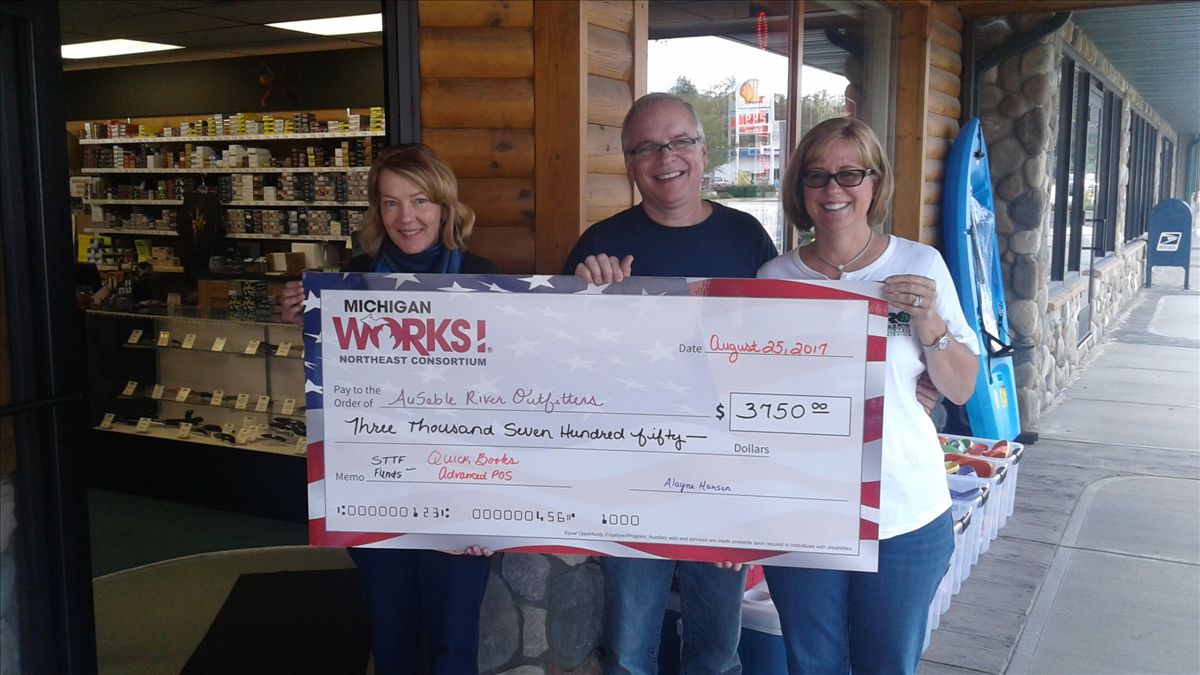 Michigan Works! Business Services Professional, Alayne Hansen with AuSable River Outfitters owners Tammy and Brian Sukarukoff
In August of 2016, AuSable Rivers Outfitters (ARO) opened its doors in Mio, in one of the poorest counties in Michigan. Like many small towns in Michigan, Mio has continued to feel the economic depression, including the closing of businesses, and a reduction in population, but not a reduction in pride. ARO offers inventory ranging from hunting and fishing equipment to kayaks and children's toys. Owners Brian and Tammy Sukarukoff say the goal in opening ARO, against all odds, was to show the local people there is hope and opportunity, and that these suffering downtowns can be revitalized.
ARO provides locals with a place to shop, employs local people and teaches them business and sales techniques, and hopes to encourage others to start a business to help the revitalization of the downtown. The entire store has been self-funded; the purchase of the building, all lease-hold improvements, all inventory and operational equipment have been paid for out of pocket. No banks or lending institutions were used.
Having invested so much into getting their building in operation and in stocking their shelves, ARO was left with little funds to use for training. Of particular need was Quick Books training, their point-of-sale accounting system, which was costing the company $100/hr in support fees, an expense they did not budget for, nor they could afford. They simply didn't have excess cash to continue to pay for the support, but yet they were in dire need of help using it for their everyday business operations.
AuSable River Outfitters began working with Michigan Works! to identifying training and staffing needs. With the help of Michigan Works!, ARO was able to secure $3,750 in Skilled Trade Training Funds to train five of their employees in Quick Books. Kirtland Community College was able to train ARO employees right at their store, which was very helpful for the business.
Since the first round of Quick Books training through the STTF funds, the owners have been able to streamline their sales and focus more on customer service and researching merchandise to sell in their store. They have also felt more comfortable with their employees running the register and having sales receipts be accurate. Thanks to the training and the new skills they offer, employees even received an increase in wage.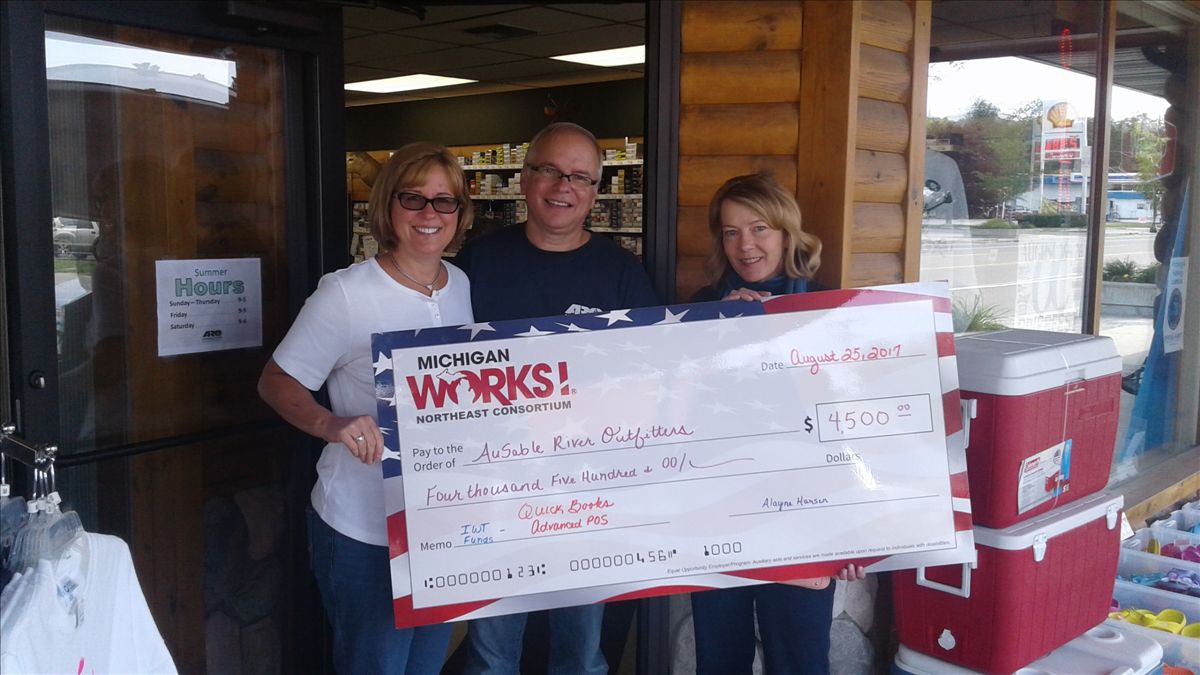 After the initial Quick Books training, a new challenge presented itself: tracking inventory and sales. This would require advanced Quick Books Point-of-Sale training. Again Michigan Works! was able to assist ARO, securing $4,500 in Incumbent Worker Training funds for three employees to upgrade their Quick Books skills. ARO owners were thrilled to once again be able to receive training from Kirtland Community College right in their store.
"Michigan Works has really come through for us in getting training for Quick Books to manage and run our store," says ARO owner, Brian Sukarukoff. "We're in a much better position to run our business successfully after receiving the one-on-one training with the Kirtland instructor."
The training dollars ARO received thanks to Michigan Works! put them on a stable business operations path. ARO is committed to the growth of the community; having invested so much into their business and the revitalization of Mio, ARO was very thankful to receive assistance to invest in their employees and help create a stronger workforce in Mio.
Created on Friday, September 8, 2017